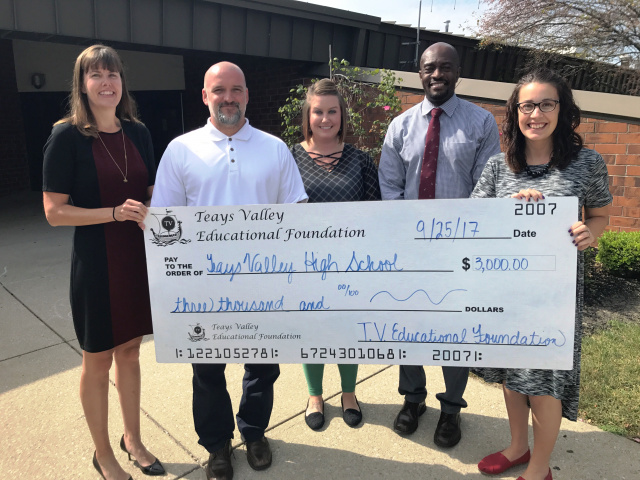 Teays Valley High School freshmen English teachers Drew Hurd, Sara Jacobs, Brent McCorvey and Lauren Sisley recently received a $3,000 grant to help purchase 30 Chromebooks and a charging cart.
"Thank you, Educational Foundation, for the ability to bring blended learning and engaging technology into our classrooms through the use of a Chromebooks," Sisley said.
TVEF treasurer Kim Videkovich is pictured presenting the check to Hurd, Jacobs, McCorvey and Sisley.
---
---
Ashville Elementary School 4th grade teachers Julie Preece, Sam Sisley and Kelly Trickel recently received a grant for $6,153 to purchase touchscreen Chromebooks for their classrooms.
"The fourth grade team at Ashville Elementary would like to thank the Educational Foundation for giving the students the chance to enhance their learning through the use of technology. The money given will help students learn skills to become 21st century learners," Sisley said.
TVEF board member Nikki Gatens is pictured presenting the check to Sisley, Trickel and Preece.