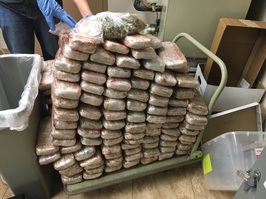 - Advertisement -
DAYTON
Ohio Attorney General Mike DeWine, Montgomery County Sheriff Phil Plummer, U.S. Department of Homeland Security Investigations Special Agent in Charge Steve Francis, and members of the Miami Valley Bulk Smuggling Task Force announced today the seizure of approximately 200 pounds of marijuana as part of an ongoing drug trafficking investigation.
Investigators with the Miami Valley Bulk Smuggling Task Force, which is part of the Ohio Attorney General's Ohio Organized Crime Investigations Commission, arrested Ana Hernandez, 35, Fernando Rivero-Hernandez, 31, and Alfonso Flores-Teran, 43, on drug charges related to the investigation. The suspects are not United States citizens.
- Advertisement -
Following a short-term investigation, task force members conducted a traffic stop on an unknown male driver and his passenger, identified as Ana Hernandez.  Investigators said they found approximately 200 pounds of marijuana in the vehicle.  Hernandez was arrested, and the male fled the scene of the traffic stop and has not yet been apprehended.
A simultaneous traffic stop conducted as part of the same investigation led to the arrests of Rivero-Hernandez and Flores-Teran. Investigators said at least one of the suspects attempted to discard crystal methamphetamine from the vehicle before stopping.
"Law enforcement in this state will continue to aggressively pursue those bringing drugs into our neighborhoods, and this case is just one more example of that fact," said Attorney General DeWine.
"We take complaints about drug activity and drug dealers very seriously and will conduct investigations to ensure those who make a living selling drugs are put behind bars," said Sheriff Phil Plummer. "The Miami Valley Bulk Smuggling Task Force did an outstanding job—our community is safer as a result."
"The significant quantity of illegal drugs seized and arrests made in this case further demonstrates why this task force stands as one of the best examples of the effectiveness of multi-agency partnerships," said Steve Francis, special agent in charge of HSI Detroit, which covers Michigan and Ohio. "This case is also an important reminder about the crucial role federal and local collaboration plays in combatting this public safety threat and ensuring that those responsible are brought to justice."
- Advertisement -
The three suspects have been federally charged by the U.S. Attorney's Office for the Southern District of Ohio.  The defendants appeared in court today and were charged with conspiracy to possess with intent to distribute in excess of 50 kilograms of marijuana.
The Miami Valley Bulk Smuggling Task Force is led by the Montgomery County Sheriff's Office and includes representatives from the Ohio State Highway Patrol, Miami Township Police Department, Butler Township Police Department, Montgomery County RANGE Task Force, Ohio Bureau of Criminal Investigation, Homeland Security Investigations, Drug Enforcement Administration and Montgomery County Prosecutor's Office.
Those with tips on illegal drug activity in the Miami Valley can contact the Miami Valley Bulk Smuggling Task Force at 937-225-6272.
Fernando Rivero-Hernandez