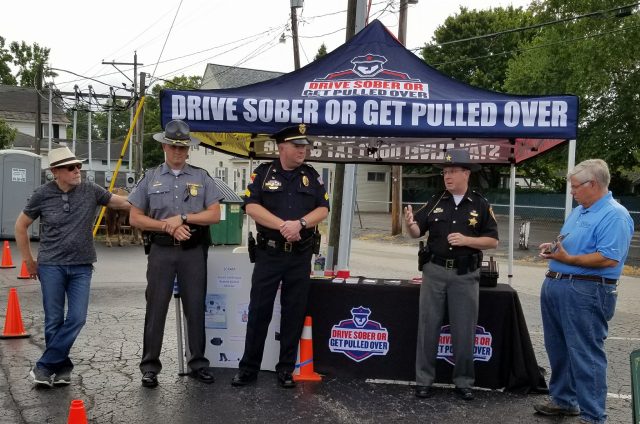 - Advertisement -
CIRCLEVILLE
The Drive Sober Or Get Pulled Over campaign for 2017 kicked off Saturday in Pickaway County at the Pickaway Farmer's Market in downtown Circleville.
Local law enforcement agencies will partner with the National Highway Traffic Safety Administration (NHTSA) during the enforcement period that runs Aug. 16 through Sept. 4 through the Labor Day holiday weekend to provide extra patrols and increased vigilance in identifying and arresting impaired drivers.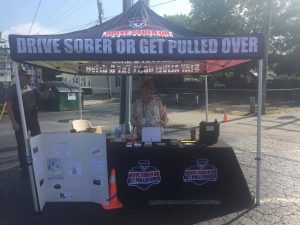 Safe Communities of Pickaway County hosted the local Drive Sober kick-off, which featured the presentation of a Safe Communities Advocate award to Rep. Gary Scherer (R-Circleville). Scherer serves the 92nd Ohio House District and was recognized for his work with the recently-approved Annie's Law and other traffic safety initiatives this year.
- Advertisement -
City and county officials came together at the event to pledge their solidarity in the fight against impaired driving in Pickaway County during the Drive Sober enforcement period and beyond.
Sheriff Robert Radcliff spoke at the event, along with Sgt. Matthew Hafey of the Circleville Police Department and Lt. Steven Herron of the Ohio State Highway Patrol.
Rep. Scherer spoke about Annie Rooney, the young woman killed by a drunk driver in 2013 for whom Annie's Law is named. The law gives judges and OVI offenders various options through the use of breathalyzer interlock devices installed in the offender's vehicle that will not allow the vehicle to start if alcohol is detected.
Judge Gary Dumm, Circleville Municipal Court, also was on hand to discuss his court's use of alcohol ankle bracelet monitors as a tool for reducing repeat OVI offenders.
Brad Lutz, county administrator, also attended Saturday's event to deliver a proclamation for the Drive Sober Or Get Pulled Over campaign on behalf of the Pickaway County Commissioners.
According to NHTSA, approximately one-third of all fatal crashes in the United States involves drunk drivers. One person is killed every 51 minutes by a drunk driver on our nation's roadways.
- Advertisement -
Drunk driving is the most preventable cause of traffic crashes. Designate a sober driver before you drink, and make arrangements for your friends and family to get home safely if they have been drinking. If you see a drunk driver on the road, contact local law enforcement.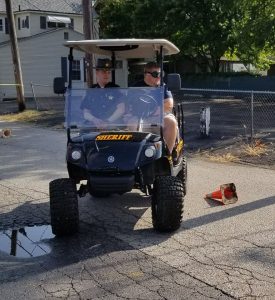 Following the presentations, the Pickaway County Sheriff's Office allowed visitors to attempt driving a golf cart while wearing goggles that simulate the experience of being intoxicated. Safe Communities also provided magnets and information about the Drive Sober campaign throughout the Farmer's Market on Saturday.