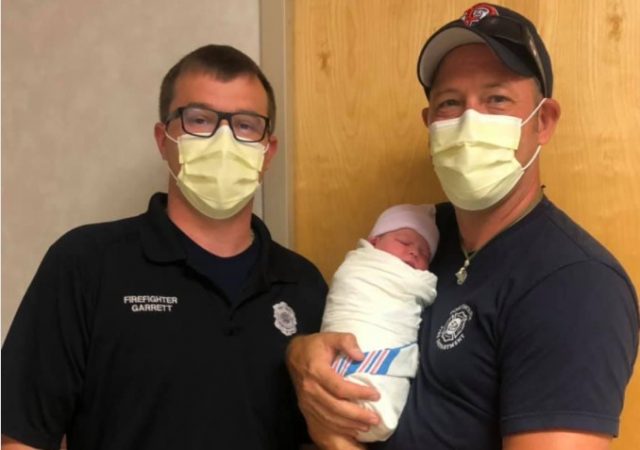 PORTSMOUTH – Several members of the Portsmouth fire department had a positive outcome to at first a dire call this morning.
According to the Portsmouth fire department, the call came in just after shift change at 8:01 am, the morning crew had just went out on their first run, an overdose, and on the way back they got the call of a possible miscarriage. Preparing for a difficult situation first responders arrived at the scene within a minute, they happened to be close. When they arrived they found a woman who did not know she was pregnant in full labor. She was laying on her porch, and the department took her to the back of the squad as several other first responders arrived on the scene.
Lt. Osborne said that he could tell that the birth was, "imminent" and the baby was coming and that they didn't have time to rush to the hospital.
First responders are trained for this situation, but it's not something that happens in high frequency and live births such as this have high acuity in the field. After discussing details with mom, Osborne realized that this baby is most likely close to term baby, and instead of worrying about miscarrage he realized quickly that this may be a viable live birth.
Five men in the back of a ambunlance, a mom, and a baby born 12 minutes after the first crew arrvied on scene. First responders said that they were relieved when the baby blinked, and then cried for the first time. They cut the cord right there on the scene, and when they arrived at Southern Ohio Medical they bipassed the emergency room and took the newborn and mom straight up to labor and delivery.
Doctors checked the newborn and reported that she was a healthy baby girl, and mom was reported in good health also.
On the departments facebook post people suggested the baby to be named after the first responders, but the comment back was, " we discussed that very thing with the mother, but mutually concluded that our names are not as fitting for a baby girl as others."
Lt. Osborn said this is the second baby that he has delivered in this way, the last one in May of 2019. First responders on the crew this morning AC Travis Garret, LT Scott Osborne, Firefigher Ed Long, Firefighter Ely Garrett, Firefighter Derek Grimm, and Firefighter Marty Kuntzman.