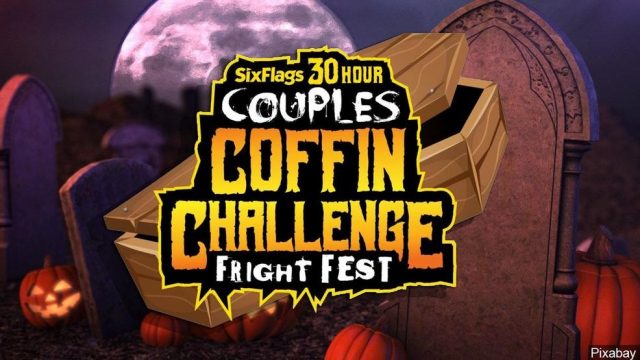 Six Flags America is celebrating Fright Fest 2019 with a demented new twist on the 30-Hour Coffin Challenge. This year six couples of any sort (siblings, cousins, friends, lovers, etc.)  will be laid to rest aahhh chosen to spend 30 hours in a coffin, from 4 pm on Friday, Sept 27 until 10 pm on Saturday, September 28.
Coffin dwellers will be allowed to bring a friend along during Fright Fest operating hours only, but they must brave the non-operating hours alone. Well, not exactly alone, some of our Fright Fest ghouls will be lurking about in the darkness. And, to make it even tougher, NO TECHNOLOGY ALLOWED – no smart phones or watches, earbuds or headphones.  You will only be allowed to use your devices during designated break times. Anyone who gets out of their coffin for any reason, with the exception of the designated bathroom and meal breaks, will be automatically disqualified and not eligible to win the contest.
All couples must be willing and able to travel to Maryland at their own expense.
The Winnings
$600 divided by 2
Two 2020 Gold Season Passes for each couple
A Fright Fest Prize package
Registration
The one couple remaining after 30 hours will split a $600 cash prize and and each get two 2020 Gold Season Passes and Fright Fest package. Participants must be 18 years of age or older, and in good health. Participants will potentially be exposed to fog, dramatic lighting, flash photography and extreme weather conditions. Safety is our number one priority. We maintain the right to alter any rules and conditions at any time.
If you think you can spend 30 hours in a coffin with a friend, relative or loved one beside you, fill out the registration form and submit it before midnight, September 20. The six couples will be chosen and notified on Saturday, September 21 and given 48-hours to reply.
All couples must be willing and able to travel to Maryland at their own expense.
To enter click here: https://www.sixflags.com/america/special-events/coffin-challenge