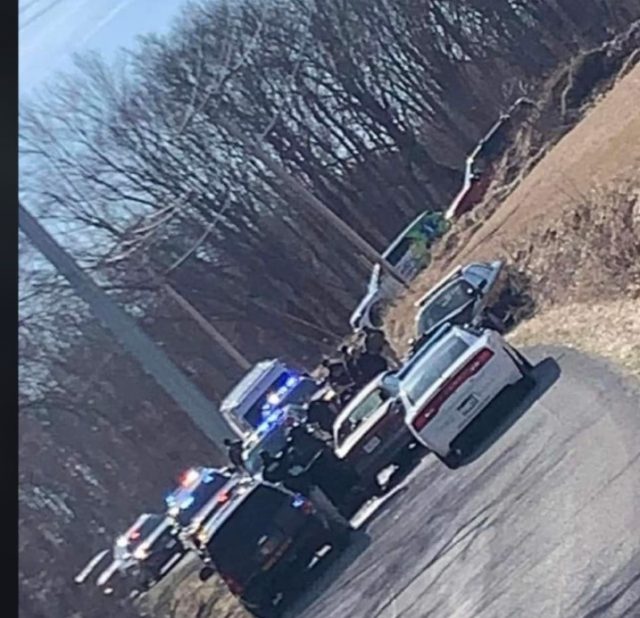 PIKE – A officer was injured and midflight was called after shots were fired during an attempted arrest
Accoridng to New and Weather of Southern Ohio multiple shots were fired on Drybone Road in Pike County when an officer attempted to arrest a man. The suspect fled the scene and ran over the deputy in his attempt to get away. The man fled the scene and multiple law enforcement units responded to an officer down call. Medflight was called into the area for the officer who was transported to Adena in unknown condition.
A search started for the suspect and he was found on Beavers Ridge Road where he lead law enforcement on a high-speed chase that ended when the suspect rammed a law enforcement vehicle leading to another officer being injured. The suspect was severely injured in the crash. At gunpoint, the man was taken into custody along with a woman who was a passenger.
EMS was dispatched to the scene along with another helicopter that was called off. The suspect was transported to Adena Pike. The woman was transported with injuries, another officer was transported with injuries from the collision crash, and a juvenile who was in the fleeing vehicle who jumped before the suspect was caught.
UPDATE: U.S. Marshal Adam Slusher is expected to be released sometime Friday evening. The full extent of the injuries are not yet known, but according to a family member, his tests came back good.
Statement from Ohio BCIThe Bureau of Criminal Investigation was requested by the U.S. Marshal's Service to investigate an officer-involved critical incident that occurred on Friday morning in Pike County. While executing an arrest warrant, a U.S. Marshal Task Force agent was injured. He has been life-flighted to Columbus and is in critical condition. The suspect was subsequently taken into custody.BCI's investigation is active and ongoing – at this time, there are no further details to share.
Ohio News and weather contributed to this report