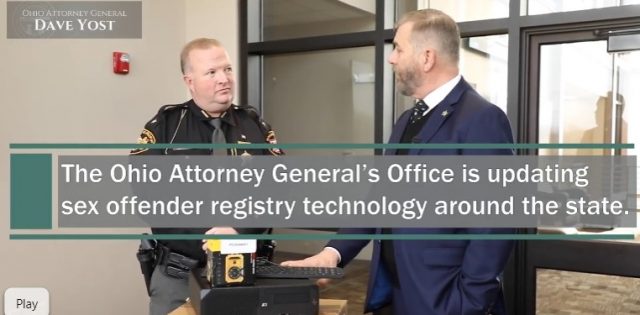 (COLUMBUS, Ohio) — All 88 county sheriffs have been provided new cameras to improve the routine registration process of convicted sexual offenders, Ohio Attorney General Dave Yost announced today.
"Ohio's sex offender registration system plays a critical role in holding convicted offenders accountable, and in the hands our county sheriffs, these tools ensure that photographs are clear and uniform across the state," Yost said. "Our job is to support local law enforcement, and that's exactly what we're doing with this grant."
In 59 counties, sheriff's offices that requested new computers also will be receiving new machines to process registrations of sex offenders. The hardware is backed by new software improvements and customization capabilities made to the Sex Offender Registry Notification (SORN) system, which law enforcement accesses through the AG's Bureau of Criminal Investigation.
In many cases, the current equipment used for registrations is outdated; new equipment creates uniformity across the state and increases the clarity of offender photographs, improving public safety.
In total, $384,283 in upgrades have been made to the registration system. The money came from a grant provided by the Office of Sex Offender Sentencing, Monitoring, Apprehending, Registering and Tracking (SMART), part of the U.S. Department of Justice.
County sheriffs are responsible for documenting sexual offenders, including photographing them. Convicted sex offenders are required to register their home, school and work addresses, report changes in addresses, and periodically verify addresses with the sheriff in their respective county.
"The Sheriffs of Ohio are very appreciative of the efforts of Attorney General Yost to provide funding for the state-of-the-art technology which will allow the Sheriffs to be more efficient in their job duties," said Robert Cornwell, Executive Director of the Buckeye State Sheriffs' Association (BSSA).
To search for sex offenders in your area, or by name, please visit the attorney general's webpage.
Ohio has required sex offenders to register since 1963 and was the first state in the nation to fully implement modern sex offender registration and notification laws under the Adam Walsh Child Protection and Safety Act of 2006.
Hear more from the attorney general:
"Our job is to support it, to provide the database itself and to connect everybody, make sure they've got the tools."
"Today we're updating the technology and the hardware so that this system can continue to operate to make Ohio safer."
"Think back to the digital cameras that you were using in 2013…This is putting it right up to speed, you know, getting the best and the newest and the clearest technology."
Hear from Ohio sheriffs:
Madison County Sheriff John Swaney, chairman of BSSA's Offender Notification Committee
"Registration in the state of Ohio is important so people are aware of the dangers within their community."
Butler County Sheriff Richard Jones
"These people that are on this registry list need checked on…because they've committed terrible heinous crimes."