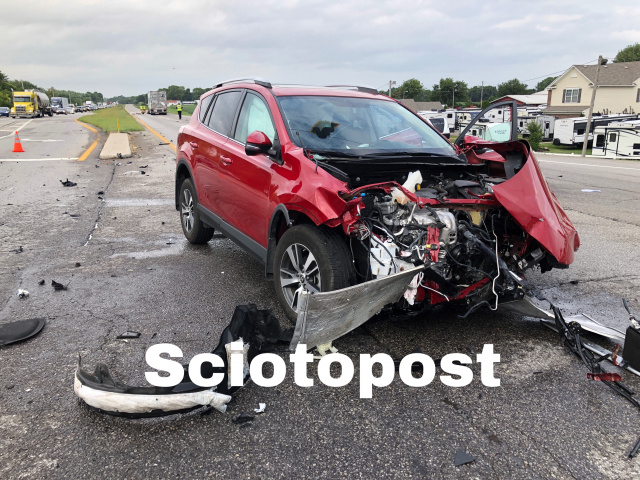 CIRCLEVILLE – An accident Occurred around 5:30 pm on August 16, 2018, at the intersection of State Route 762 and US 23.  According to State Highway Patrol reports a Blue Boyle Transportation Semi Truck from Oklahoma was traveling North Bound in the left lane of 23, and the Red Toyota Rav-4 was attempting to turn left from 23 South to 762 East (Duvall Rd) when the accident occurred.  The Red Rav-4 made an impact with the Semi Truck around the gas tank section of the truck causing a liquid leak from the engine, causing hazmat to become involved by the liquid was not flammable. The two occupants in the Semi truck were unharmed.  The Toyota Rav-4 driver was transported to Grant Medical Center with non-life threating injuries.  The accident shut down the North Bound lane of 23 North at 762 for about 2 hours while it was being cleaned up. At this time the accident is still under investigation by the State Highway Patrol.
"I saw the whole thing happen, said Jon Radcliff who was sitting at the intersection to cross over 23.  The SUV was spinning around like a top when they hit.  The truck driver never let off the gas it was clear he was plowing right through.  The semi barely budged when it made the impact with the SUV.  Cars were turning left onto Duvall Rd from 23, after they made the impact and when I looked up after seeing the SUV spinning the light was green for me to go."  Radcliffs opinion was that both operators were in a yellow light situation, the semi truck was trying to beat the yellow light, and the SUV was turning left in a turn lane when the accident occurred.
According to law even in a yellow light situation, when turning left at a light, you must yield to traffic.
Copyright 2018 by Sciotopost All rights Reserved.  This material may not be published, broadcast, rewritten or redistributed.