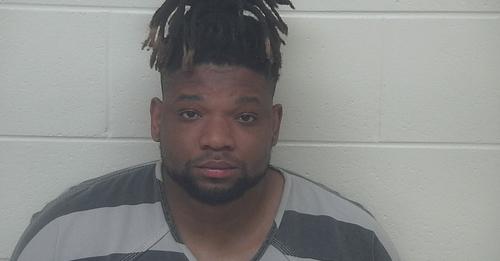 Scioto County Sheriff David Thoroughman states that his Office received a call at approximately 9:06 pm on Saturday, February 4, 2023 to respond to Shawnee Grocery Store located at 721 U.S. Highway 52, Stout, Ohio. The caller stated that a male subject had entered the store wearing a pair of underwear on his head and that he had a gun. The caller advised that the male was pointing the gun at the clerk, demanding money from the cash register.
Sheriff Thoroughman stated that deputies, as well as detectives, responded. After obtaining a description of the suspect vehicle it was relayed to all surrounding law enforcement agencies. It was learned that the suspect was driving a vehicle that had just been stolen from Auto Zone in Portsmouth.
Sheriff Thoroughman stated that an Adams County Deputy observed the suspect vehicle driving in the area of Germany Hill Road and U.S. 52. The deputy made a felony stop on the vehicle and detained the suspect until back up arrived.
Inside the stolen vehicle deputies recovered the money as well as the firearm used in the robbery. Also recovered were the underwear which was used to cover the suspect's head during the robbery.
Arrested was Davonta Edward Mitchell, age 30, last known address is 2550 Lone Oak Road #207 Paducah, KY 42003. Mitchell has been charged with Aggravated Robbery, a felony of the 1st degree, Kidnapping, a felony of the 1st degree, Grand Theft of a Motor Vehicle, a felony of the 4th degree, and Theft, a felony of the 5th degree. Mitchell is currently being held in the Scioto County Jail on a $207,500 bond. He will appear in Portsmouth Municipal Court on Monday, February 6, 2023.
This is still an ongoing investigation and anyone with information is requested to contact Detective Sergeant Jodi Conkel @ 740-351-1091.