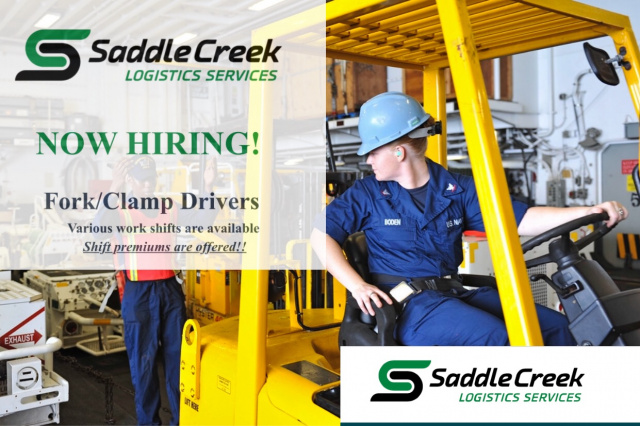 GROVEPORT -Saddle Creek is an asset-based third-party logistics provider based in Lakeland, Florida. They specialize in designing and delivering omnichannel logistics solutions for manufacturers, retailers and ecommerce companies. Their approach is solution based and data driven, using the most advanced operational methods and sophisticated technologies. They offer our fulfillment, warehousing and transportation services as stand-alone offerings or as part of an integrated logistics solution.
Saddle Creek is currently hiring for forklift/clamp positions and various work shifts are available with shift premiums offered. Saddle creek holds jobs fairs every Wednesday at 3760 Sharp's Landing in Groveport Ohio from 8am to 4 pm.
To view all opportunities and to fill out an Application Online Here

Saddle Creek was founded in 1966 when David Lyons acquired a single 12,000 sq ft warehouse in Lakeland Florida. Today, as we celebrate over 50 years of success, Saddle Creek has grown to be an integrated logistics services provider with more than 20m sq. ft. of warehouse space, a fleet of trucks, and a full suite of services that benefit our customers nationwide. Saddle Creek's 50+ years of consistent revenue growth is attributed to our family oriented culture and our associate's commitment to delivering service excellence every day. Along the way, we embraced a motto that describes our philosophy for doing business – Whatever it Takes! still guides us today as the standard for how Saddle Creek treats its customers. This philosophy has served us well over the years, and will continue to do so as we look toward the future…and at SC the future is bright!