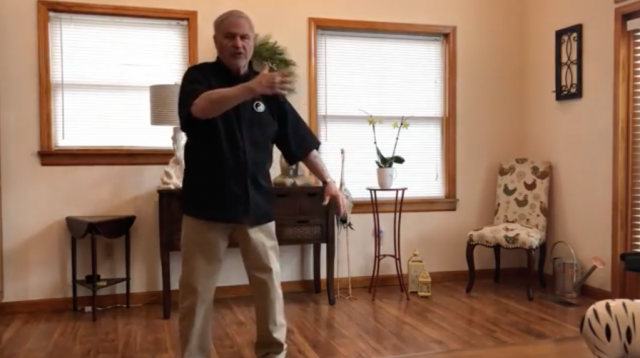 Richard Allen Greenlee was born on December 31st, 1941. He was a lifelong resident of Circleville, a graduate of Circleville High School, and a proud Marine Corps veteran. He worked alongside his father and mother for nearly forty years at Denver Greenlee Band Instruments.
Most people know Richard as Grandmaster Greenlee, as he was head of the Shaolin Iron Tiger Kung fu martial arts system. He was a 10th degree black belt in Kung fu and a Master 6th degree in Okinawan Shorin-Ryu Karate. He was a kickboxing instructor for many years with a long list of elite black belts and titled kickboxers who studied under him. He taught Kung fu, children's self-defense, women's self-defense and cardio kickboxing, Tai Chi, and Qigong. He owned and operated martial arts schools in Ohio, Florida, and Texas and was a guest instructor at many of his previous student's schools over the years.
At nearly eighty years, he was still teaching Tai Chi, giving private kung fu lessons and guest teaching at local Ohio kung fu academies. He was inducted into the World Martial Arts Hall of Fame as Grandmaster of the Year in 1994 and into the International Martial Arts Hall of Fame in 1996, and he was a member of the World Head of Family Sokeship Council, an elite group of grandmasters from around the world.
Richard was the devoted husband of nearly sixty years to Monna Kay Peters Greenlee. Where you found one, you found the other, just like peas and carrots⸺or being funny, he would say, "just like pork and beans." He was a father to four children, Gregory Greenlee, Eric Greenlee, Lisa Greenlee, and Ranae (Rob) Spires. Grandfather to Matthew (Meredith) Greenlee, Roy "Alex" Greenlee, Hannah (Jeff) Rush, Karrie (Logan) Greenlee, Nick (Amanda) Greenlee, Jordon Greenlee, Gavin Greenlee, Garrett Greenlee, Clayton (Ashly) Spires and Blake (Lexy) Spires. Richard was also a doting great-grandfather to Karlie Congrove, Julius Greenlee, Denver Greenlee and Oaklee Spires.
He is preceded in death by parents, Denver and Helen Greenlee, father and mother-in-law Roy and Prudis Peters, brother and sister-in-law Tom and Joyce Peters, and sister-in-law Elaine Greenlee.
Richard is survived by his aforementioned wife and family, brother Donald W. Greenlee, nephews David Greenlee, James Greenlee, and Jeffrey Peters, nieces Elizabeth Ellis, Jennifer Wellington, Susan Roy and their respective families. He is also survived by good family friend John Huffman.
Richard lived for his wife and family. He was the kindest, most thoughtful, and generous husband, father, grandfather, and great-grandfather. He went out of his way to make sure his family had everything they ever needed. If ever there were a family member in need, Grandpa was on his way!
He was also very witty and the king of "on your feet, lose your seat." He was happiest when he was talking about his grandchildren and great-grandchildren. On any given day, he and Monna would drive to New Holland, buy many dozens of cookies, and spend the afternoon delivering them. He just liked to make people smile and that he did. As much as he enjoyed going out to dinner, he loved Monna's cooking best. He enjoyed old cowboy pictures, and action television shows. He also enjoyed watching high school, college, and pro sports, and he especially loved watching tennis with Monna.
There aren't enough words to describe what a wonderful, loving person he was to everyone. He will be profoundly missed by his family, friends and neighbors, past and present martial arts students and all those who knew and loved him.
Due to the current health climate, a private service will take place this Friday, December 31st with Pastor Kenn Barton. The family intends to host a celebration of life gathering in the coming spring for friends, colleagues, and martial arts students.
Online condolences can be made to www.wellmanfuneralhomes.com