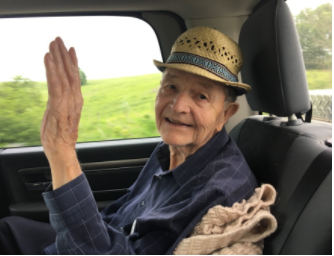 Rev. Ervin "Bo" N. Kirk, age 89 of Ashville, OH passed away on Wed. Dec. 27, 2017 at Mt. Carmel WestMedical Center in Columbus, OH.  Rev. Kirk was born on Feb. 22, 1928 to the late Ervin V. and Alice (Hensley) Kirk in Mingo, WV.  He was a graduate of Inez High School and married Marie Balazs Jan. 9, 1949.  He worked as a coal miner in early years and with Columbus Local Union 189 as a pipefitter for over 35 years.  His favorite job was as a pastor for Millport Chapel for over 60 years.  He had a love for the ministry and volunteered his time for many years.
Along with his parents, Rev. Kirk was preceded in death by his wife of 51 years, Marie B. Kirk in 2000, a sister Sally Cassidy and brothers Donald Richard and James Frederick Kirk and a great grandson Allen Kirk Wilson.
He is survived by son James (Betty) Kirk of Virginia and daughter Teresa (Jim) Pritchard of Ashville; grandchildren Erin (Colin) Wilson and Jared Pritchard; great grandson Austin James Wilson who was his little buddy; special nephew Jamie Kirk and numerous cousins, nephews, nieces and friends.
Funeral Service will be held on Wed. Jan. 3, 2018 at 11:00 a.m. at Oliver-Cheek Funeral Home, 420 W. Main St., Ashville, OH 43103 with Rev. Paul Kirk officiating. Interment will follow at Harrison Twp. Cemetery in South Bloomfield.  Visitation will be  from 2:00-8:00 p.m. on Tues. Jan. 2nd at the funeral home.  Online condolences at olivercheekfuneralhome.com