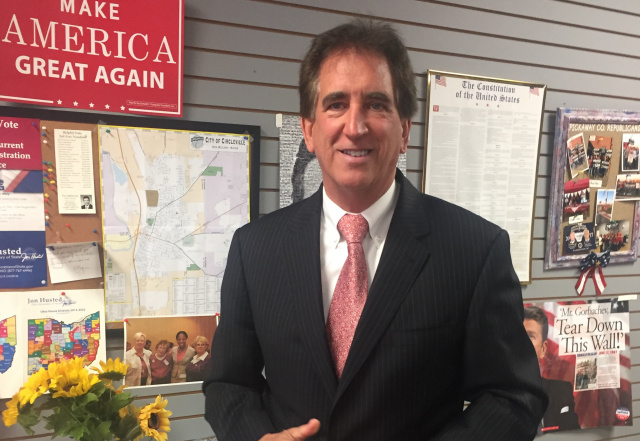 CIRCLEVILLE
Jim Renacci, U.S. Representative for Ohio's 16th District and GOP Primary Candidate for Governor was in town to speak this week on his campaign trail. He spoke about deeply about Opioid addiction and how Ohio was number one for Opioid overdose and addiction in the country. Renacci says he has been told by an Opioid addiction panel that schools have not offered enough opportunities for non-college students after 6th grade.
"Education didn't help them, we need to look at our education system to open up more opportunities for these kids." said Renacci "We also need to look at what happens after school, after 3 pm internships, job opportunity. Mentorships should be added to our education system. This Opioid problem cannot be fixed just by education, it needs to be fixed by all of us coming together with our churches, police, our fire our communities all together."

- Advertisement -
The question was asked "Is there a model out there that is working?" Renacci said, "When you are number one in addiction the are 49 models out there that are doing better. We need to change, there are other State models doing better. We have pushed our children into a college only situation thats part of the problem." Renacci continued, "There is no silver bullet. I'm against the good Samaritan law, it does not work. Addicts know there are no consequences so they continue using."
The "Good Samaritan Law" related to drug use was added in Ohio in 2016. Under the law, qualified individuals reporting a drug overdose cannot be arrested or prosecuted for a minor drug offense if all the following apply:
The drugs that were recovered by law enforcement were found as a result of the person or another seeking medical assistance for them in a drug overdose situation.
Within thirty days the person seeks and obtains a screening and receives a referral for treatment from an accredited addiction treatment program or professional.
If requested by a prosecutor, the person submits documentation that verifies the date and time of the screening and the referral received.