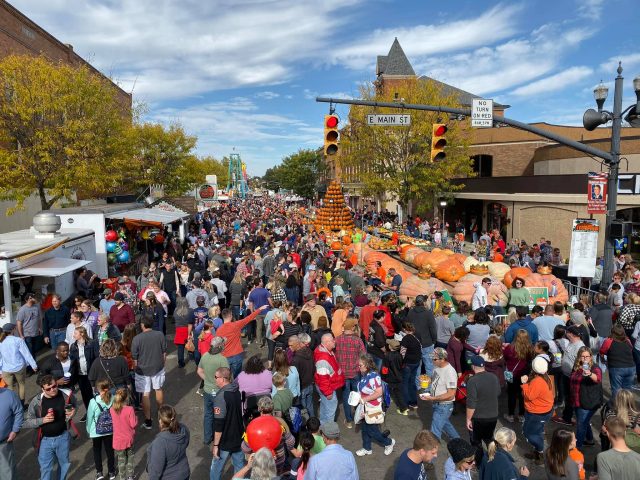 PICKAWAY – Pumpkin Show Inc has signed a long-term contract with a local tent company to provide the structures for all the booths you see at the Pumpkin show.
"So last week, the Circleville pumpkin show board passed a long-term contract for our tent provider," said Barry Keller Vice President of Pumpkin Show, "It's a local businessman, Pritchard tents, we're excited about that. He's making a huge financial commitment to purchase all brand new tents to supply the pumpkin show. And we're happy to be doing business with a local business person spending our money locally. I think it's a win-win for both the pumpkin show and a local company."
According to Pritchard Tents LLC they purchased around 136 tents putting their inventory at around 300 tents of various sizes. Pumpkin Show tents range from 10×10-10×50. It will take 2 days to install all of the tents with 20 crew members 350 water barrels and about 7,000 ft of side curtains.
According to Pumpkin show the tent company that provided tents to the Festival (Show) for over 20 years when they came out of the pandemic that tent company was no longer available, due to short notice in 2021 they hired a Columbus Tent company that, "was a struggle and a challenge to the new company." So they aimed for a better solution and have found it.
Pritchard Tents LLC is located at 117 South Court Street the company started in 2002. According to President Tyler Pritchard, "We have always been an auction company so dad had a few tent tables and chairs. One of the guys who worked for him asked if they could rent them out, and that's how it started. A few years later we bought out his side and would set up tents in the summer for some walking around money. In 2014 after graduating from capital university I took over The company we had about 10 tents."
Currently, they have about 160 tents (not including new Pumpkin Show tents), about 3000 chairs 800 tables, and a tent washing machine which the company says no one else around here has.
"Pritchard Tent is an industry leader with the highest quality commercial grade tents available. The pumpkin show is referred to as the greatest free show on earth. Now they will have the greatest tents. Adding to the greatness and making the show look that much better with all brand new white tents. This is also big for vendors no longer will they need to worry about tent with holes or weak tents falling down or blowing away," said Tyler Pritchard.
Pumpkin show reported that they have currently signed a 10-year deal with the possibility of an extension.