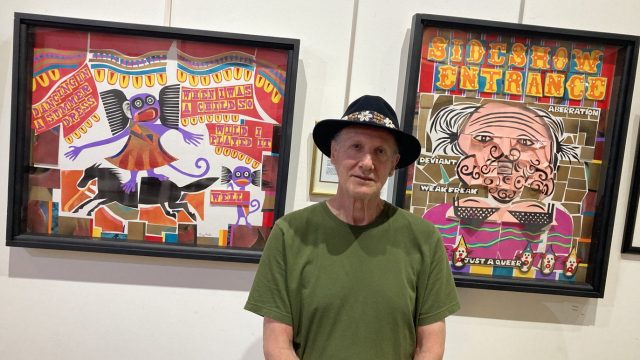 Chillicothe – The July show of the Pump House Center for the Arts features graphic-novel-styled art that accompanies online music you can listen to through your smart phone or tablet. (Continued from Part 1)
"Rocking Horse: A Journey Through Mental Health / The Art of Craig Matis" opened Friday in the free public art gallery in Chillicothe's Yoctangee Park.
At the evening opening, I had memory problems – my smart phone was out of memory! – and so I had to interview the artist in a way other than my usual audio recording.
After touring his artwork and music, I had waited to approach Craig Matis until the end of the event. My iPhone then told me it had no room for an interview, and he was ready to leave – so he offered to communicate with me by email.
So, Matis contacted me after returning home. I sent him five general questions, and here are his responses – only lightly edited.
---
OK, Kevin. Here we go:
Originally from Illinois. Lived in Los Angeles for 6 years and moved to Cleveland in 1980, and have been there since.
My stylistic inspirations? Everybody and anybody!
I was inspired to be a musician and a songwriter when I first heard Bob Dylan on the radio, and when the Beatles arrived in the U.S. in the early 60's – so this is really dating myself.
I grew up listening to all kinds of music in my home. My parents were artists and listened to a wide variety of music: jazz, classical, folk music, world music, etc. Consequently, my songwriting "style" incorporates a wide range of music.
My style leans more to the alternative music scene than to pop music, particularly contemporary pop. Of course, growing up in the sixties exposed me to many styles of music.
In terms of visual art, I love many different kinds of artists: Edward Hopper, Rembrandt, Picasso, Julian Schnabel, many others.
How did the music/art combination come about? When I was at the University of Illinois in Champaign/Urbana, I created slide visuals for a group called the American Music Group. It was run by Neely Bruce. We performed 19th century American music.
There was one song that Neely wanted me to illustrate via slide visuals. After that, I did the slide visuals for the group's performances of "Four Saints in Three Acts" by Virgil Thomson and Gertrude Stein.
When I moved to Los Angeles, I began creating slide visuals for my own songs, and when I moved to Cleveland I started a band, Uzizi, which incorporated slide visuals of my songs with the live gigs.
After that period, I began creating "songbooks", as an extension of these slide show gigs. To answer your question, I am both a musician/songwriter AND a visual artist. I don't think that one role overrules the other.
Social causes: some of my work addresses social concerns, like racism, the trans* community, and those who are special needs.
I had a show at the Pump House many years ago (I think sometime in the '90s) and I liked the staff and the space there. This is why I decided to approach them again with this new work.
In terms of people getting ahold of me: I do have a Facebook page, although I don't monitor it too often. People can reach me via my email: [email protected].
Craig
---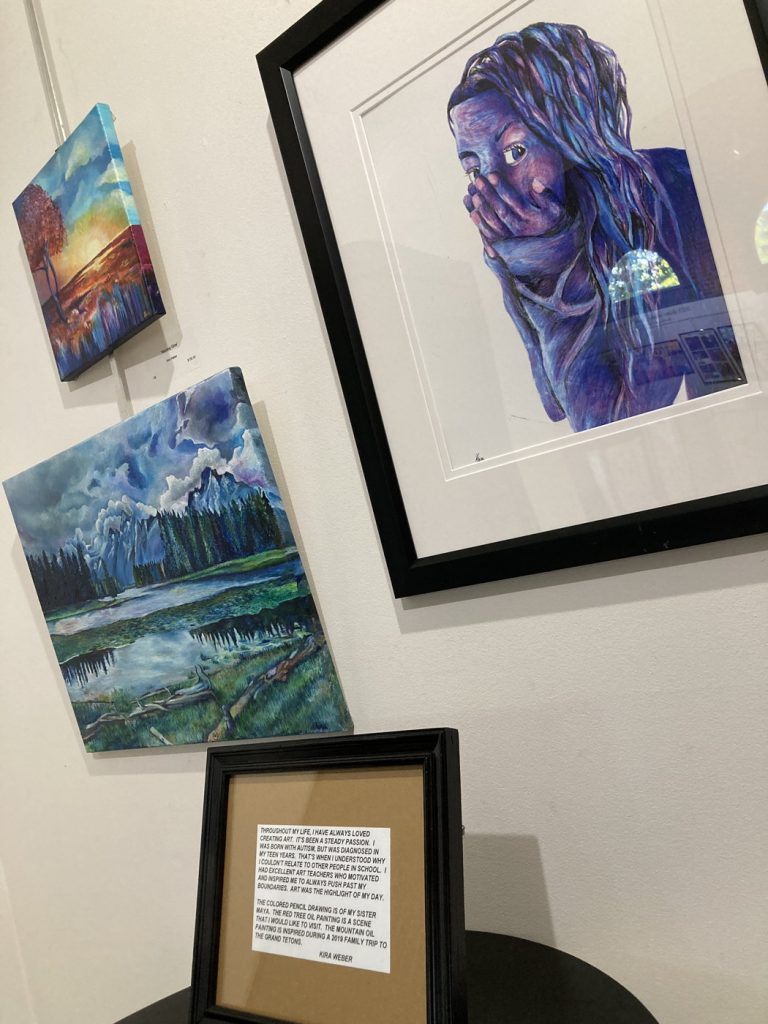 Sponsored by Tomlinson Insurance, "Rocking Horse: A Journey Through Mental Health / The Art of Craig Matis" will be on display at the Pump House through July…with the regional art competition "The Hills" opening in August.
The art gallery's fundraiser "Fix the Bricks" continues, including the "Night with Hillbilly Chic" fundraiser.