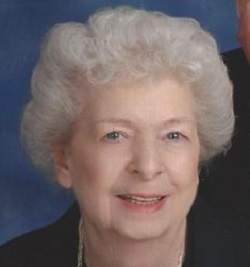 Joanne Regene (Dumm) Schlegler, 90, of Circleville, died Saturday, July 8, 2017, at Berger Hospital from complications of a stroke.
Joanne was a beautiful soul and a devoted wife and mother. She will be fondly remembered and sadly missed by all who had the honor of knowing and being loved by her.
She was born on Dec. 4, 1926, in Pickaway County, to Wayne and Mabel Riggen Dumm.
She was retired from Circleville City Schools, a member of the Circleville Presbyterian Church, and volunteered for many years with Hands for the Disabled.
She was preceded in death by her husband of 66 years, Forrest Schlegler; brother, Robert Dumm; and son-in-law, Timothy Brown.
Joanne is survived by her three daughters, Suzanne Brown, Sally Schlegler (Phil Roll) and Stacey (Patrick) Quinn. She adored her five grandchildren, Brenton (Lynne) Brown, Betsey Brown, and Kelsey, Courtney and Connor Quinn; two great-grandchildren, Aiden and Melanie Brown, who were so precious to her; and sister-in-law, Clara Dumm.
Funeral service will be held 11 a.m. Thursday, July 13, 2017, at Wellman Funeral Home in Circleville with Chaplain Jim Ferrell officiating. Friends and family may call from 2 to 4 and 6 to 8 p.m. Wednesday. Burial will be at Forest Cemetery.
Memorial Contributions may be made to Circleville Presbyterian Church, 134 E. Mound St., Circleville, Ohio 43113; or Berger Hospice, 1170 N. Court St., Circleville, Ohio 43113.
Online condolences can be made to www.wellmanfuneralhomes.com.
This article originally appeared on The Pickaway News Journal