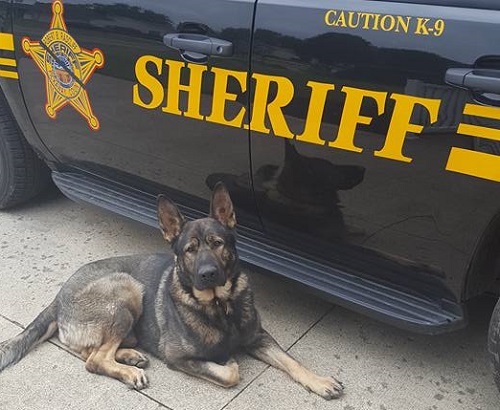 Trish Bennett, Editor
CIRCLEVILLE – The Pickaway County Sheriff's Office is mourning the loss of its canine officer, Aron, during an emergency surgical procedure Wednesday morning.
Aron, partner of Deputy Stephen Harger, just recently celebrated his second birthday and joined the Sheriff's Office last fall.
According to Sheriff Robert Radcliff, Aron was rushed to the veterinarian in Columbus on Wednesday morning, where he passed away during emergency stomach surgery.
Radcliff said flags at the Pickaway County Sheriff's Office will be lowered to half-staff in Aron's honor as arrangements are being made.
"It all happened so suddenly, it just wasn't expected at all," Radcliff said. "I'm sure we will have some kind of ceremony for him, but I don't know yet when that will be."
Schoedinger Pet Services has been notified, he said, and a Pickaway County cruiser will provide an escort of the remains for cremation.
Aron was one of two canine units employed by the Pickaway County Sheriff's Office, which also includes Turpin and his handler, Deputy Jeremy Wallace.
Two additional dogs are currently in training with their handlers to join the PCSO, Radcliff said, including a drug dog with Deputy Kyle Eveland and a bomb dog with Deputy Dale Thomas.
Aron was an asset to the Pickaway County Sheriff's Office, Radcliff said.
The dog made headlines in May for his assistance in a large methamphetamine bust on U.S. Route 23.
This article originally appeared on The Pickaway News Journal