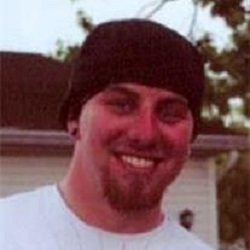 Larry Dee Booth Jr., age 29, of Orient, passed away unexpectedly on Friday, June 30, 2017.
He was preceded in death by his nephew, Brendan Woosley; uncle, Jerry Booth; and grandfather, Bill Booth.
He is survived by his son, Urijah Booth and Urijah's mother, Lindsey Matson; parents, Larry (Glenna) Booth and Jane (Pat) Donovan; siblings, Jason (Mary Ann) Booth, Steven (Jenny) Booth, Jerry (Chase) Booth and Melissa Booth; grandparents, Phyllis Booth and Joseph and Betty Regan; and nieces and nephews, Braelyn, Addison, Ryan, Makayla, Madelyn, Anthony and Corrin.
A visitation will be held from 4 to 8 p.m. Thursday, July 6, 2017, at Schoedinger Grove City Chapel, 3920 Broadway, Grove City, where a funeral service will take place at 10 a.m. Friday, July 7, 2017.
In lieu of flowers, donations may be made to Larry's family.
Visit www.schoedinger.com to extend condolences and share special memories of Larry.
This article originally appeared on The Pickaway News Journal