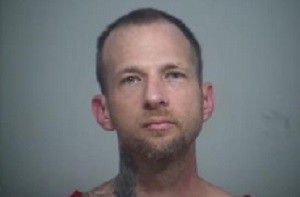 NEW HOLLAND – A suspected bank robber was arrested within minutes of the crime Thursday following an incident at the Milton Banking Company in New Holland.
Joshua T. Rea, 39, of New Holland, is currently being held in the Pickaway County Jail facing charges of robbery and as a fugitive from justice.
According to reports, Chief Jason Lawless, New Holland Police Department, responded to a call about 2:30 p.m. Thursday reporting a man wearing a bandanna and sunglasses had entered the bank at 25 N. Main St. and demanded money.
Tellers informed Lawless they have given the suspect $4,860 before he fled from the bank in a westbound direction.
Based on information from the scene, Lawless made contact with Rea on Church Street, where he reportedly obtained a confession. Rea then led Lawless to the stolen money hidden in the attic at his Church Street home, which included $100 more than was reported stolen from the bank.
Investigators also discovered the bandanna and sunglasses in a trash bag inside a neighbor's garage.
A woman at the Church Street residence also was detained and questioned following the incident, but she was later released.
The New Holland Police Department was assisted at the scene by deputies from the Pickaway County Sheriff's Office and the Fayette County Sheriff's Office.
This article originally appeared on The Pickaway News Journal