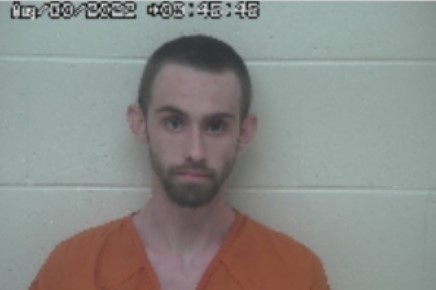 Pike County – Sheriff Tracy D. Evans would like to report that on August 30. 2022, his ofice received a complaint of a suspicious vehicle and male subject. The male subject was identified as Austin Tyler Humphrey, 22-year-old male of' 308 South Lock Street. Waverly, who was reported knocking on residences' doors and having multiple warrants for his arrest.
Pike County Deputies responded to the 700 block of Hackleshin Road where Humphrey was located. While attempting to detain Humphrey, the deputy sustained minor injuries as Humphrey resisted arrest. Humphrey eluded from the deputy and ran into a residence on Hackleshin Road and barricaded himself inside the residence. Information was received that firearms were possibly present inside.
After several attempts were made to get Humphrey to exit the residence with no success, additional law enforcement units were requested on scene. The Ohio State Highway Patrol, Piketon Police Department, and Waverly Police Department were all requested to the scene to assist Pike County Deputies. Forced entry was then made into the residence where Humphrey was apprehended without further incident.
He was then transported to the Scioto County Jail facility and charged with resisting arrest. This case will be submitted to the Pike County Prosecutor's Office for further review of additional charges.