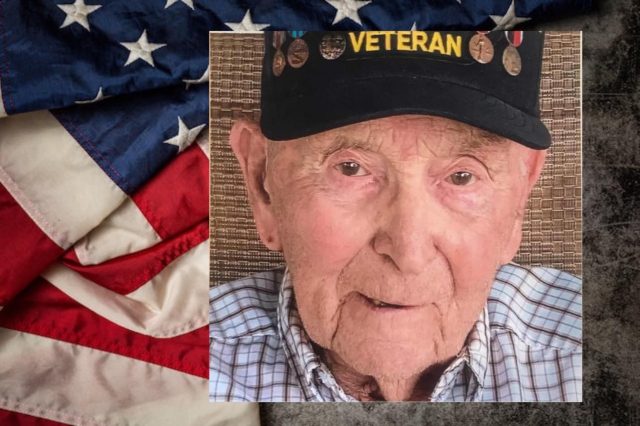 James Lee Sines, 99, passed away on Sunday, March 20, 2022 peacefully at his home in Circleville surrounded by loved ones. James was born July 25, 1922 in Mason County, West Virginia. He was preceded in death by his parents, Vene and Nellie Sines, his loving wife, Naomi Sines, his sister Carol Horn and his special friend, Evelyn Fannin. James leaves behind two children, Patricia Patrick (Steve Bullman), and Rex A. Foster. He is also survived by two grandchildren, Robin R. Hedrick (John Hedrick), Shane A. Foster (Sophia Foster), three great-grandchildren, Lane A. Hedrick (Haley Hedrick), Chance G. Hedrick, Seven Foster, and two great-great grandchildren, Trent Hedrick and Holden Hedrick. James is survived by his sister, Ernistine Dietz, brother-in-law Chuck Horn, and many nieces and nephews.
James (Lee) was a lifetime member of the American Legion and V.F.W., as well as the 99th Infantry Association, having served in the 99th Infantry Division, with Company C of the 325th Eng. BN, in the European theater during WWII. He enlisted in the Army at Ft. Benjamin Harrison on December 1, 1942 and was honorably discharged as a Sergeant on December 10, 1945 from Camp Atterbury, Indiana.
James returned home from the war and went to work as an electrician with General Motors-Fisher Body Division until he retired. James and Naomi enjoyed hunting, fishing, boating and traveling to historical sites in the United States. He enjoyed telling stories from the past and being with his friends and family.
The family will be receiving guests on Monday, March 28th from 10:00 a.m.-12:00 p.m. at O.R. Woodyard Funeral Home, 1346 S. High St., Columbus, Ohio 43207. A memorial service will immediately follow with Rev. Kimberly Weisman officiating. A graveside service will follow at Obetz Cemetery.
In lieu of flowers, the family requests donations be made to ProMedica Hospice
116 Morris Road Suite B, Circleville, Ohio 43113.