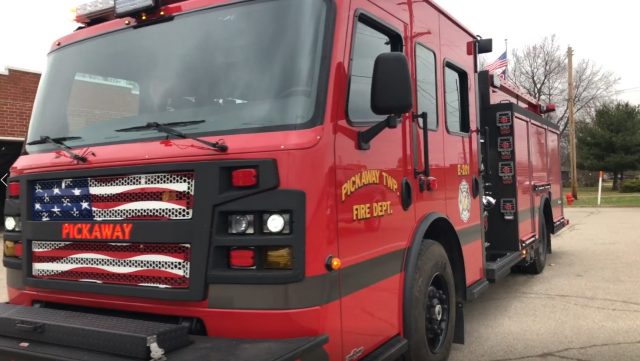 PICKAWAY – Just last week we reported that Circleville Fire Department with help from
Mickey Smith of Ohio First Responder Grants, LLC had successfully roped in another big
grant for Circleville, that will replace aging equipment, which will keep the department
within National requirements. Now Smith has pulled in another big grant, this one for
almost a million dollars for the Pickaway Township Fire Department.



As small communities struggle to pay for full time EMS and fire protection services all
over the state, aging and unsafe equipment continues to plague many rural first
responder departments.
Several Pickaway County fire departments have been thrown a lifeline by utilizing the
experienced and extremely successful services provided by this Ohio based, first
responder owned and operated company.
Utilizing experience and proprietary assessment tools, Ohio First Responder Grants,
LLC, aims to find funding for budget shortcomings through government grants, which
has been a helping hand for Pickaway County.
This lifeline has netted Pickaway Township, a new engine / rescue in December of 2018
worth around a half of a million dollars, a grant to replace obsolete self-contained
breathing apparatus last year. Now $930,500 dollars for a new, desperately needed
100-foot platform ladder truck, which will replace the departments current 45-year-old
unsafe model. Additionally, a second grant in the amount of $87,857 was received for
the replacement of 35-year-old Hose and Nozzles the department currently uses.
Interview with Mickey at 8:00 on video taken in 2018 below explains the grant and why it is so important to our area.
These grants come at a required 5% cost match portion from the Township, with the
remaining 95% being paid by the federal grant. The grant to replace the ladder truck
will cost the Township $44,309.52, leaving the grant to pay $886,190.48. The second
grant will cost the Township $4,392.86, and a federal portion of $87,857.14.
Total cost to Pickaway Township will be $48,702.38 for a grant funding of $974,047.62.
This will cost Pickaway Township residents based upon population approximately $8.40
per person.



Mickey Smith of Ohio First Responder Grants, LLC has netted almost a million and a half
dollars for just Pickaway Township alone in the last few years, and close to a million for
Circleville. The company has helped other fire departments in the area also. These
grants are keeping our fire departments up to federal requirements without a cost from
our local taxes.
"These grants were introduced just before 9-11 to help first responders obtain critically
needed equipment necessary for protecting the public and emergency personnel from
fire and related hazards. Replacing aging equipment and unsafe vehicles reduces
injuries and deaths to firefighters, at an absolute bare minimum of expense to the
taxpayers. Some of the vehicles we are replacing do not have functioning seat belts
that would hold a firefighter in place in case of a crash. In fact, most have no
reinforcement designs, airbags, or auxiliary safety equipment whatsoever. God forbid
any of these new trucks are ever involved in an accident. If that unfortunate event
occurs, at least the first responder occupants will have a better chance of walking
away," – Mickey Smith.