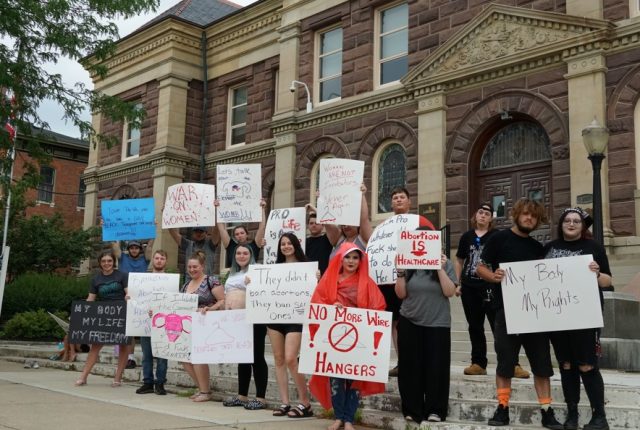 PICKAWAY – Over a dozen people took to the steps of the Pickaway County Courthouse on Sunday to protest the recent decision of Roe vs Wade.
A decision by America's highest court on Friday overturned Roe vs Wade which has been in place for over half a century has now placed the fight for reproduction rights on the front lines state to state.
Some states like California will be safe havens for women seeking an abortion, states like Ohio will restrict those rights to less than 6 weeks, and other states may even criminalize abortion with felonies.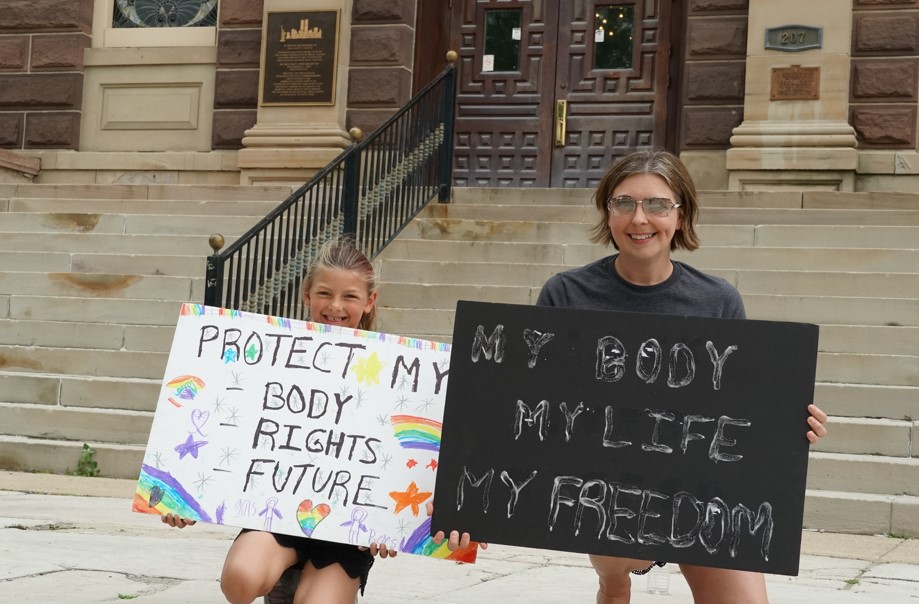 On social media, the divide on this issue is increasing the volatility between conservatives and liberal parts of the country.
One protester told Sciotopost today that they can see this being a struggle for women in Ohio, "what about women who are struggling with addiction? For women who are struggling to be able to afford a home, everything is so expensive right now, having a baby and having to be on maternity leave is expensive and people simply can't afford that. Some women can't afford to move to another state where they have laws that protect their rights, it's not fair."
Another protester said as a local business owner shes afraid of the job market and being able to find employees will worsen, "less and less people will want to live in Ohio over their laws on women rights, I'm having issues already finding employees, with this I see a mass exit of women from Ohio to other places where their rights are supported."
The protesters told Sciotopost that they are not only standing up against Ohio but all the rights of women all across the world.
"In Texas its a felony for an abortion after seven weeks of pregnancy, not only for the doctor to perform but from medications ordered in from other states. Rapists are charged with less than a woman trying to abort a pregnancy from rape. Its my body and my choice."
Protesters said they fear what is coming next, "its women's reproductive rights today, tomorrow it could be interracial marriages, gay rights, that's what is coming next. This is just as important as the Karl Rittenhouse case this is self-defense for women."
In 2019 Ohio Governor Dewine signed into law the, "heartbeat bill" that bill has been held under a federal court injunction since. On Friday shortly after the overturning of Roe vs Wade Attorney General Dave Yost, asked for that to be dissolved because of the high court's ruling, and a federal judge agreed hours later.
Governor Dewine followed that up with an executive order Friday night for the Ohio Department of Health to adopt rules under the Heartbeat law "specifying the appropriate methods of performing an examination for the purpose of determining the presence of a fetal heartbeat of an unborn individual based on standard medical practice."  
Several States around the country have enacted "Trigger" laws that once Roe vs Wade was overturned their abortion ban laws would go into effect, other states have acted in the same effect protecting abortion rights.