Pickaway County OH- Pickaway County OH- A 16-year-old male from Ashville was driving a 2006 Chevy Cobalt southbound on Ringgold Southern Rd when he failed to stop at the intersection of Stoutsville Pike. The car then collided with a 2006 Ford F-150 in the intersection that was traveling westbound on Stoutsville Pike.
The impact to the pickup truck was so severe that it caused the pickup truck to rollover. The Ford F-150 was driven by 71-year-old Danny Atrip of Stoutsville, he was transported by Medflight to Grant Hospital with unknown injuries but in critical condition.

The 16-year-old male juvenile driver (Not named) of the cobalt also had another 16-year-old male passenger (Also not named) from Stoutsville. The driver was transported by Air Evac to Childrens Hospital in critical condition and the passenger was transported by Medflight to Grant Hospital also in critical condition.
REPORT FROM PICKAWAY SHERIFF ON ACCIDENT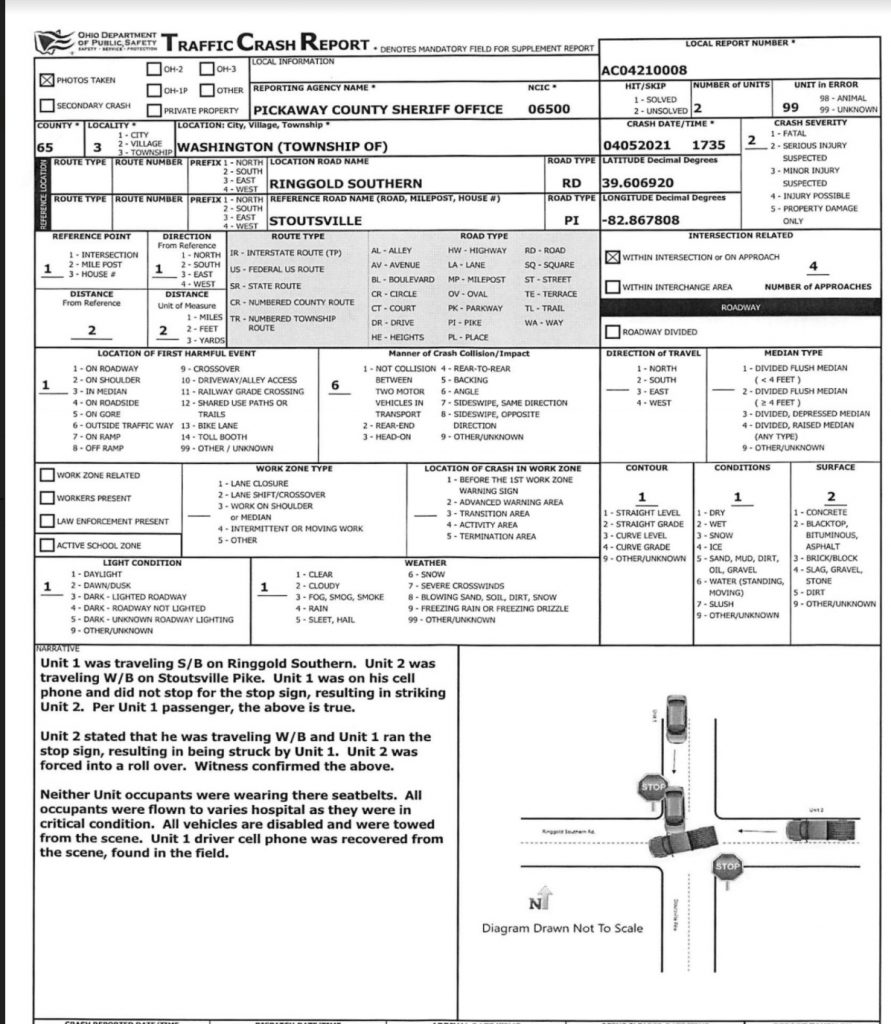 According to a witness statement, the 16 year old male driver of the Chevy Cobalt was on his cell phone when the crash occurred. None of the occupants from either vehicle were wearing seatbelts. The cell phone allegedly used by the 16 year old male driver was recovered in the field near the accident scene according to the report obtained by Scioto Post.
Multiple emergency crews responded to the scene.