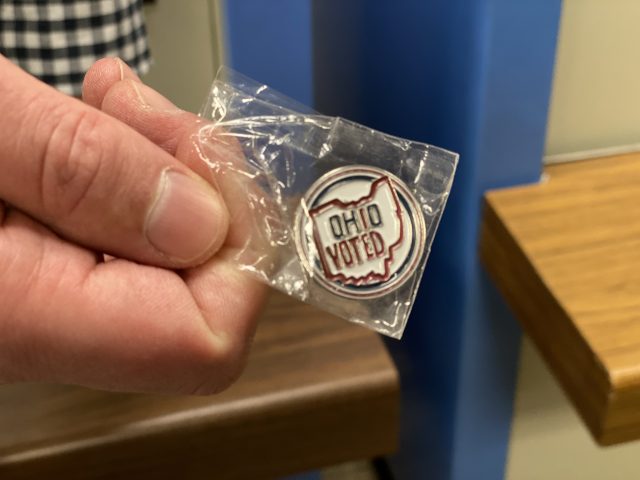 PICKAWAY – 31.33% of the county voted in the November 2 election yesterday through early voting, mail-in voting and in-person voting.
Unofficial results determined that (R) Mike Carey was the selection for 15th District for Congress beating (D), Allison Russon, by a significant amount in the county.

CIRCLEVILLE
(R) Barry Keller a long-time Circleville Councilman ran unopposed for Circleville Council president a new position for him.
(R) Mark Bidwell who has been the acting Auditor for Circleville ran unopposed for the city position.
(D) Dodie Radcliff ran unopposed for treasurer in Circleville
Council at large had three position to be elected and they were filled by three people running (R) Michelle Blanton who has been on council for the last several terms, (R) Katie Logan Hedges who also has been on council for the last several terms, and (R) Tom Duvall who is new to the council.
(R) Jeff Hallinin maintained his position on the 1st ward Council that he has held since the last term.
(R) Caryn Koch took the 2nd ward position unopposed, this position has been held by Barry Keller for decades, Keller move to the Council president position.
(R) Todd Brady won the only contested seat against (D) Zachary Brooks by a significant amount maintaining the seat he has held for several cycles.
(R) Sheri Theis ran unopposed for 4th ward this is a seat she has held for two terms.
NEW HOLLAND
New Holland Mayor Troy Hupp ran unopposed and will serve another term.
Two people ran for members of Council for New Holland Village out of four seats Danny Kirkpatrick and Floyd Woolever
Both proposed 1 million tax levies were voted down in New Holland
SOUTH BLOOMFIELD
Mayor Matt Pettibone ran unopposed in the town, Pettibone has been mayor in the Village last term,
Two people ran for members of Council in South Bloomfield for four open positions Debbie Jones Tom Ramsay
Williamsport
Two people ran for members of Council in Williamsport for four open positions Matthew Fields Tracey Garrett
A Proposed Tax Levy (Replacement and Increase), EMS, 3.65 mills Williamsport Village failed according to unofficial results by one vote 65 to 64 this will have to be determined in a recount and official by the board of elections in a few weeks.
Circleville Township
Township Trustee Circleville Township two positions open Ernest R. Enoch Bob Kuhlwein
SCHOOL DISTRICT MEMBERS
Member of Board of Education Adena Local School District
Vote For 3
Steven R. Clever Jr. 11
Nathan Huff 11
Beth Kruger 7
Josh McQuiniff 13
Kevin L. Pancake 10
Member of Board of Education Circleville City School District
Vote For 2

Joe Kluczynski 613
Terry M. Leasure 1,150
Nickolas P. Perini 954
Patty Truex 1,748
Member of Board of Education Logan Elm Local School District
Vote For 3

Michael J. Agosta 821
Matt Kim 1,229
Scotty Lester 544
Michael Linton 923
Deborah A. Shaw 1,492
Jason M. Snyder 617
Member of Board of Education Miami Trace Local School District
Vote For 3

Rob Dawson 68
Jacklyn Farrens 62
David D. Miller I 71
Member of Board of Education Southwestern City School District
Vote For 3

Chris Boso 13
David Donofrio 14
Cathy Johnson 13
Kelli Martindale 13
Jamie Shumaker 16
Member of Board of Education Teays Valley Local School District
Vote For 2

Charles D. Morrison 2,622
Write-In Totals 1,842
Write-In: Glenna Archer 732
Write-In: Nichole Fannin 984
Write-In: Invalid Write-In 107
Member of Board of Education Westfall Local School District
Vote For 2

Christy Rigsby 1,140
Sean Ruth 1,108
Proposed Tax Levy (Renewal), Expenses, 0.75 mill Pickaway Senior Center

For the Tax Levy 7,869
Against the Tax Levy 3,325
Proposed Tax Levy (Renewal), Current Expenses, 1 mill ADAMH

For the Tax Levy 6,714
Against the Tax Levy 4,339
Proposed Tax Levy (Renewal), Expenses, 2.5 mills Tarlton Village

For the Tax Levy 37
Against the Tax Levy 19
Proposed Tax Levy (Renewal), Expenses, 1.8 mills Sterling Joint Ambulance District

For the Tax Levy 497
Against the Tax Levy 198
Proposed Tax Levy (Renewal), Fire Maintenance, 2 mills Southwest Pickaway Fire District

For the Tax Levy 262
Against the Tax Levy 134
Proposed Bond Issue, EMS Building, 1.8 mills Southwest Pickaway Fire District

For the Bond Issue 170
Against the Bond Issue 221
Proposed Tax Levy (Replacement) Tri-County Joint Fire District

FOR THE TAX LEVY 456
AGAINST THE TAX LEVY 239
Proposed Income Tax, Improvements, 1% Adena Local School District

For the Tax 13
Against the Tax 8