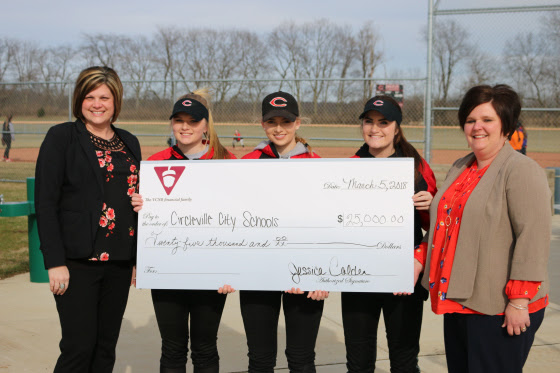 Circleville City Schools – On Wednesday, March 7th, the Circleville City School District received a $25,000 donation from the Pickaway County Banking Center to be put to use for a facilities expansion of the campus softball complex.
The Pickaway County Banking Center's move today to invest in the students at Circleville City is an extension of their organizational culture and community service initiative to make meaningful financial commitments to the areas in which they live and work.. Read more on the PCBC family here.
"Time and time again this community has stepped up to help us provide a high quality educational experience, in high quality facilities, for our greatest asset, our students," ," said superintendent Jonathan Davis. "The Pickaway County Banking Center's substantial donation is an endearing continuation of such community commitment to our students and I cannot thank them enough for their investment in our Tigers ."

A proud Circleville City Schools community partner, the Pickaway County Banking Center is one of 17 Vinton County National Banking branches across 8 counties and is located at 120 S. Court St in downtown Circleville in its newly renovated facility. The bank prides itself in being a community-centered organization that serves its community by providing personalized loan and deposit services to individuals and local businesses.
""We invest in the communities we serve," said branch manager Jessica Calder. "That is one of our core values and something we live by each and every day as an organization and as individual employees. Schools are the foundation of our communities and therefore we know that an investment in Circleville City Schools is money well spent."
The organization is slated to be recognized for their contribution at the upcoming March 14th meeting of the board of education.