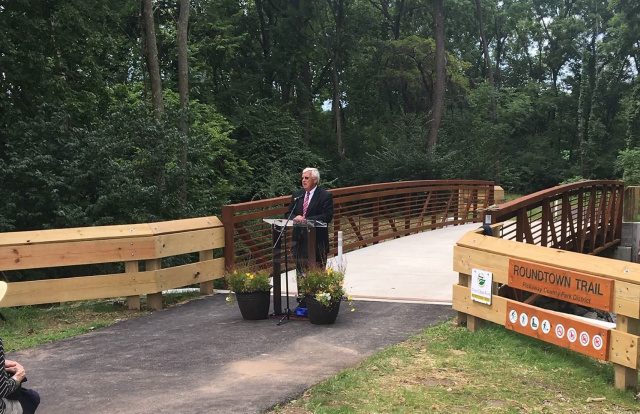 By Jonathan Hogue
CIRCLEVILLE – The Pickaway County Park's levy is a 1/2 mill, 10 year, property tax. For someone owning a $100,000 house, they would pay $17.50 per year. The levy would raise approximately $700,000, annually. Voting yes for the levy will establish the tax.
Don McIlroy, Circleville's Mayor, said about the levy, "Look at the new trail that was put in behind the high school that connects the YMCA to the Ohio Christian University. Walk that trail. See how many young families are there. That's what these new trails are going to do for us. It's going to bring new families into our communities, that use our schools and shop here and do everything. Quality of life is something we don't give a lot of lip service to. And that's what this levy is going to do."
- Advertisement -
Brian Stewart, a Pickaway County Commissioner, said "I think it doesn't take very long to look around throughout central Ohio and see the kind of communities that we're competing with for jobs, the kind of communities that we're competing with for residents. Parks are not a luxury; they are a necessity. Families are deciding where to live based on what kind of outdoor opportunities are going to be available to them and their kids and their parents, and I can tell you from being in the room, the Sofidels of the world that are looking around all of Ohio, and frankly all across the United States, are saying, 'Where do we want to start our business?' 'Where do we want our employees to live?' Parks and outdoor recreational opportunities are a huge part of that checklist."
Davis said the money will be use for projects such as: clearing and paving the Pickaway Trail, connecting major trails in Pickaway County, adding canoe access sites on the Big Darby and Scioto Rivers, increasing the parks improvement grant to $200,000, annually, and preserving significant historical sites such as Lock 31 at Millport.
According to the Park District, currently, the parks improvement grant only has a budget of $5,000. Increasing the budget would allow improvements in parks in cities, villages, and townships, such as the dilapidated park at Logan Elm Village.
The Park District was established in 2002, under Ohio Revised Code Section 1545 to preserve green space, develop outdoor recreational activities and promote healthy lifestyles, and to preserve historical and cultural history of Pickaway County. However, no funding was authorized to help accomplish this.
- Advertisement -
Davis told us that since 2002, one-time donations have helped the district acquire 16 miles of rail-trail from Circleville to New Holland, acquire easements for the 1.5 mile Roundtown Trail, take ownership of the Canal Park and Towpath Trail, and provide 18 park-improvement grants to 12 local communities in Pickaway County for improvement of their parks and trails.
Stewart, a fiscal conservative that rarely speaks on behalf of tax increases said, "If you look around and see what these folks have done with literally a shoe string budget, it really kind of gets you excited about what these guys could do if they finally had a budget to work with. What could be done if they had the kind of resources that other park districts and other competing counties had?"
The park district focuses on passive outdoor recreation (green space, picnic areas, walking trails, hunting and fishing areas) instead of active outdoor recreation (like sports fields).
Davis told us the most common point he has to clear up about the park is that people think the Park District is responsible for Ted Lewis Park. Davis said that is a city park and isn't directly related to this levy.
- Advertisement -