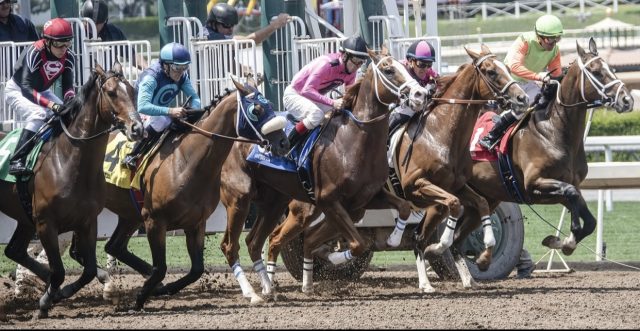 Unpredictability is the only thing constant about betting on horse races. Nevertheless, people indulge in it as it brings extra excitement while watching the game. It is a battlefield where you continuously learn to adapt, research, and prepare while wishing for all the luck in the world. Such is the essence and nature of betting on horse racing, after all.
Likewise, betting can be risky, but it is a risk worth taking. Thus, with extra time and effort to read below, you could gain some tips and information on how to hone your betting skills and increase your chances of winning each bet:
Do A Bit Of Researching
Do a little bit of research, reading some horse racing betting guide can do more for you than you think. You could always watch every game, listen to the news if you want, or better yet, read the program for horse racing.
Although the program may not compare statistics, it does contain everything you need to know. This includes information on every horse competing on each day, the track they will be racing on, the race schedule, and the jockey riding the horse.
The program also contains the shirt color of the jockey – where if you're feeling lucky, you could use color as an indicator for betting. However, always remember that color will not always guarantee a win.
Additionally, the program comprises the horse's statistics in its past races, the place that they finished, and the workout and training routine of the horse. And if a letter is listed rather than a number, it indicates that the horse has been displaced.
By reading the program, you already gain an edge in betting by using the information available. With it, you're able to filter the potential winners by using past statistics, ratings, and information.
Engage In Different Bets
Knowing the ways and methods of betting in all its forms will widen your perspective and hone your strategic skills as well. Although there are different systems for betting all around the world, familiarizing yourself with each one will be beneficial to you:
Fixed Odds
The most common betting among sports of every kind is fixed odds – wherein you place a wager with a bookmaker for an agreed cost. If your bet happens to win, your total cash would be the amount you staked multiplied by the odds set by the bookmaker.
With this, you won't know the amount of the odds until the beginning of the race.
Show Bets
Waging that your horse will triumph as the first placer, second placer, or third placer is the method by show bets. This type of betting could give you more allowance and chances as it is flexible in the horse's place.
Across The Board Bet
Picks that have been displayed will be the way to go when betting across the board. Your ability to determine if your horse will place in these three categories will determine how good your skills are.
Betting On Multiple Horses
If you want to go for betting on multiple horses, you could also try your hand with the four types: superfecta, trifecta, quinella, and exacta.
For a superfecta, you bet in exact order the placement of four horses from first to fourth. And for a trifecta, as the tri prefix suggests, you're waging on a precise order of three horses from first to third.
On the other hand, the horses' placement will not matter when it comes to a quinella. Here, you bet the horses will cross the finish line in any order – which may be first place or second place. Lastly, exacta entails betting two horses' placement in a specific order.
Find And Increase Your Odds
Increasing your odds means that you'd check and engage in a pool of gambling sites to heighten your payout roll. Since you've already compared the horses' skills and potential from the program and discovered the types of betting systems, you can now engage in various sites.
By doing so, you would be able to filter down these sites to offer the best deals and who gives out the highest payouts. Additionally, you could also discover the best betting system for every site you use!
Control Your Bankroll
Managing and controlling how much money you have is always a must. This dictates whether you could bet again and whether you could bet more. Likewise, you should always prepare and decide the amount you are willing to pay for each bet.
In Summary
By researching and learning day by day, you could turn this exciting and unpredictable game of horse racing into a business of your own – through the one skill you're great at betting!
And although the nature of betting may be overwhelming at first, as if you're bombarded with all these facts, you will be able to utilize and incorporate all of these soon – not by luck, but by predicting the unpredictable.