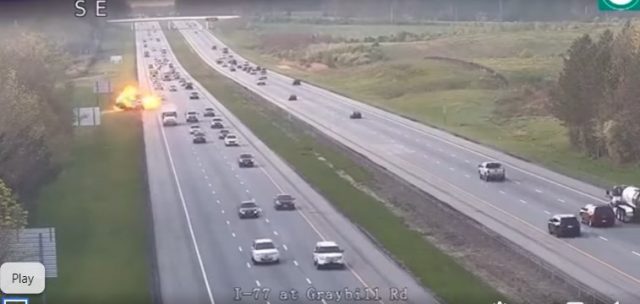 OHIO – Something you would see out of the movies, watching it on the video you can almost brace for impact when a dump truck collides with an ODOT vehicle on the side of I-77.
Accoridng to Summit County Sheriffs office around 7:20 am a dump truck traveling on I-77 struck an ODOT vehicle. The crash occurred near Graybill Road in the City of Green.
In the video it's pretty obvious what happens to the dump truck traveling at a reasonable speed begins to not maintain his lane and runs into the back of an ODOT vehicle parked on the side of the roadway. An explosion occurs then both vehicles go off the roadway in a fiery crash.
Both drivers of the vehicles were transported with serious life-threatening injuries. The crash is being investigated by the Summit County Sheriff's Office.