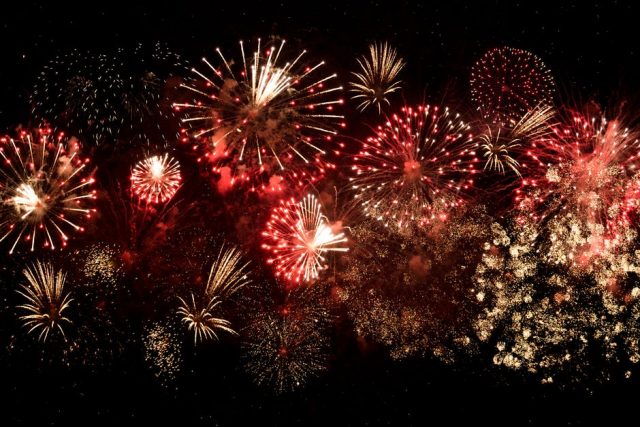 Obetz OH- In an open letter to residents of the village, the Mayor announces 4th of July with be celebrated but with restrictions due to COVID-19.
Here is the letter-
Mayor Kirk Announces that Obetz will have Fireworks on July 4th
I know that everyone is wondering, so let me confirm for you that Obetz will have fireworks on July 4th, 2020.  Unfortunately, there will not be an event at the Fortress to go with the fireworks because of the Coronavirus rules.  Residents will be able to enjoy the fireworks from their houses only and must follow the rules for social distancing and mass gatherings (whatever those will be on July 4th).  Based on the current Coronavirus Rules, I anticipate that all parks will be closed during the event to ensure the safety of our residents and the exclusion of outside guests.  I have not decided on a location yet because locations must be vetted for safety by the village and the fireworks vendor.  Below, I explain how we got here and how it will go next year.
How are the event dates chosen in Obetz?
Each event we host is planned according to: when the residents would most enjoy it, the date of the holiday, the day of the week of the event, type of holiday, weather predictions, availability of staff, cost of event, cost of overtime, estimated crowd sizes, availability of security (internal and external), availability of vendors (who may be scheduled for other events elsewhere), availability of volunteers, money allocated to hosting the event, schedule of the events in other places (like other cities fireworks, Ohio State football games, Hamilton and Groveport football games, graduations, etc.), any event-specific requirements, how many people celebrate any given holiday, the Village's overall available resources, and—new this year—what accommodations must be made for the Coronavirus.
It is not an easy chore to determine the event dates.  And, as you saw last year at Halloween, things in that formula can change and have a drastic effect on your event.  With rain predicted on Trick-or-Treat night last year, everyone wanted to take advantage of a night with good weather.  That dramatically changed the estimated attendance at our Halloween celebration just before the event happened.  The result was overwhelming.  We literally had too much fun.
Who chooses the event dates for Obetz?
The event process starts with the Obetz Council (our Legislative branch of government) who determines how many events they will fund and at what levels.  Then, I (the Mayor, our Executive branch of government) apply all of those event considerations to determine the best dates and methods for hosting the events.  The reality of the situation is that Obetz staff works through all the issues and recommends a list of event dates to the Mayor.  Those dates are informally shared with the Council and public through our electronic media.  Unfortunately, getting 100% agreement among all the elected officials and the 5,000 residents is impossible, so there will always be someone unhappy—usually for reasons unknown to us.  For example, we may choose a date for the Easter Egg Hunt when you have plans to be on vacation.  That is unfortunate, but I don't know a way to know all those types of issues.  So, we make our best guess based on all the data I explained above.
How will we choose dates in the future?
As a new Mayor, I was not involved in choosing the dates for 2020. In late 2019, as a council member, I was informed of those decisions—as we are every year. That said, in my administration, I expect that in the future: 1) Council will fund the events.  2) I will present the proposed dates to Council in December of each year, in a public meeting, so that the Council and public may formally weigh in on what they would like to see.  3) I will then finalize the dates and execute the events to our standards.  The dates we choose will be based on all the considerations I have explained.  They may or may not fall on actual holiday dates.  I look forward to your input on our future events.
How has the date of the fireworks evolved for this year?
With Coronavirus, the considerations we made when the last administration chose July 2nd have changed.  Our Fireworks vendor is now available on July 4th because of other cancellations.  I don't need any staff because there is no event to go with the fireworks.  I don't need security because there is no gathering.  I don't need vendors because there is no gathering to go with the fireworks.  I have renegotiated the vendor contract to allow for a new location to be considered.  Now that no one can gather, I am trying to find the best location to create the best views for all Obetz.  That will likely be impossible for all of Obetz to have a good view, but I am working hard to figure that out.  Because the view may be limited by trees and such, I have renegotiated the types of fireworks we ordered back in December, to ensure that we have more fireworks that go higher into the sky so that more people can see them.  I have been working on those things since the beginning of the pandemic.
What else should you know?
I am re-evaluating every Village event and its date based on the changes in the world.  I believe all the events are important and will cancel them only as a last resort.  Because the rules are changing daily, time is our friend on these things.  The world will be different when the Zucchinifest comes in September.  We are also looking at Halloween and Christmas kickoff.  I can't tell you whether any of those events will happen.  I can tell you that we have a talented group of people making every effort to safely produce those events within the confines of the law.  I appreciate your patience as we work through those.  If you have suggestions, please feel free to email them to me at [email protected].  I will ensure that your ideas are included in the considerations we are making daily and that we will continue to make up to the date of the event.
Zucchinifest Specifics
I am getting a lot of questions about the Zucchinifest.  I can tell you that I had the contracts set in such a way that I can cancel the Zucchinifest 14 days before it is set to start.  Although the prognosis doesn't look good right now, I plan to wait until the last minute to decide.  That will give us the best chance of having a Zucchinifest this year.  I hope it will work out, but there is just no way to know right now.  Keep your fingers crossed!
Sincerely,
Angela M. Kirk
Obetz Mayor