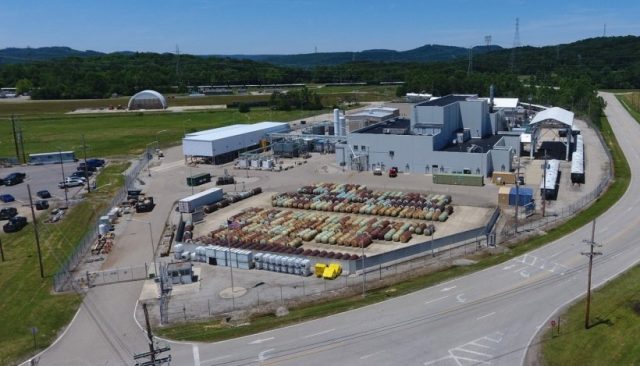 Washington, D.C. – Today, Representative Brad Wenstrup (OH-02) released the following statement commending the Department of Energy's (DOE) a $150 million award to produce High-Assay Low-Enriched Uranium (HALEU) in southern Ohio:
"I strongly believe that as a nation, we must have the capability to enrich uranium right here in the United States. As the pandemic and the war in Ukraine have shown, we absolutely cannot rely on adversarial nations like Russia and China for products that are key to our national security," said Rep. Wenstrup. "The High-Assay Low-Enriched Uranium Demonstration Project is a significant step forward for this fully domestic enrichment technology, and I am proud to have fought for funding to ensure this project continues to move forward. There is no place better suited to tackle the challenge of safely supplying our nation's enriched uranium needs than southern Ohio."
HALEU is a crucial material needed to develop and deploy advanced reactors in the United States. Having a domestic uranium enrichment capacity is also critical for our military, as both the U.S. nuclear arsenal and Navy require fully domestic enriched uranium. Representative Wenstrup has consistently fought for funding to ensure the demonstration project moves forward, and he will continue to support efforts to expand uranium enrichment capacity at the DOE Portsmouth site going forward.
Both of EM's conversion plants that recycle depleted uranium hexafluoride (DUF6) to safer and more beneficial products are back in business with improved safety and sustainability measures following a COVID-19 operational pause.
"Conversion of DUF6 is now back online, with improved safety, performance and facilities thanks to deliberate conduct of operations and maintenance during the safety pause," said Joel Bradburne, manager of EM's Portsmouth/Paducah Project Office (PPPO), which oversees the project.
The Paducah facility in western Kentucky was the first to restart, in November 2021. EM's conversion contractor then used the same gradual and rigorous process as Paducah to ensure a return to safe and deliberate operations at its Portsmouth Site in Ohio during the past several months.
Under pandemic protocols, EM took the opportunity to install and implement new equipment and processes to ensure improved safe production going forward. Significant among the improvements is a new "bulk hydrogen" backup system that ensures continuous, uninterrupted delivery of hydrogen to the conversion process in case of hydrogen-generation outages. The new system stores and delivers excess hydrogen produced from onsite generating units, and supports receipt of hydrogen delivered by truck. It was designed in collaboration with PPPO prime contractor Mid-America Conversion Services and subcontractor Air Products.
"This important infrastructure project has improved the stability of the conversion process and helped avoid operational upsets, reducing the need for intervention by plant personnel," said Zak Lafontaine, PPPO's DUF6 program manager. "The bulk hydrogen upgrade has been instrumental in improving the versatility and reliability of operations at both plants. In less than a year, we can already directly attribute more than 50 days of additional conversion operations to this key plant improvement."
Commissioned in 2010 and 2011, EM's conversion facilities were specially designed and constructed to convert DUF6 at the former gaseous diffusion plants that enriched uranium for national security and commercial energy uses since the early 1950s. The result of conversion is a more stable uranium oxide along with aqueous hydrogen fluoride for disposition, storage and reuse. Approximately 740,000 metric tons of DUF6 remain to be converted over the next several decades.
Background:
Today's announcement ensures that the U.S. has a source of domestically enriched HALEU.
HALEU is an important fuel for the advanced reactors of the future and for national security applications.
Piketon is the only domestically owned uranium enrichment facility in the United States, and the only U.S. plant licensed to produce HALEU.
In 2019, the Trump administration announced a new, three-year, $115 million contract with Centrus to produce HALEU after the Obama administration ended an earlier iteration of the project, the American Centrifuge Plant, in 2015.