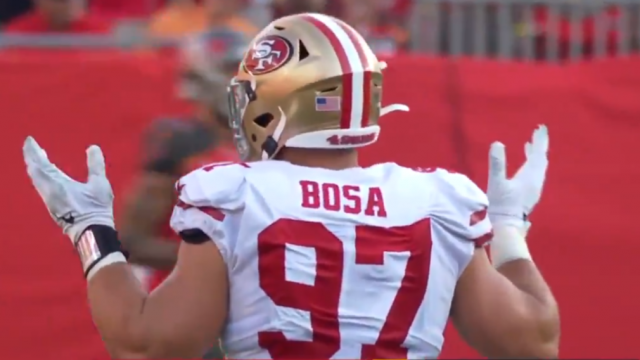 Photo Courtesy: saturdaytradition.com
Eleven Warriors shared their video via this Tweet
San Francisco 49ers and former Ohio State Buckeyes Defensive End, Nick Boss, the younger brother of Joey Bosa, sacked Baker Mayfield and then mocked Mayfield's infamous flag plant.
NICK BOSA GETS THE SACK AND PLANTS THE FLAG.

¯_(ツ)_/¯ pic.twitter.com/13PDa1B9GT

— Eleven Warriors (@11W) October 8, 2019
In 2017, Mayfield planted the Oklahoma Sooners flag at mid-field in the center of the block "O" in celebration of their win over the Buckeyes.
To say it did not go over very well to many Ohioans at the time would be an understatement.  Since then Baker Mayfield has become the quarterback for one of the Ohio NFL football teams, the Cleveland Browns.  There are many Buckeye fans that have forgiven Mayfield's antics due to him calling Ohio home during his NFL career with the Browns, but there are many that still hold a grudge due to Mayfield being unapologetic for his actions.
Bosa will walk away the victor tonight, not only for his troll on Mayfield but for the pending win that the 49ers will have as the score currently is 28-3 with 10 mins left of the game.