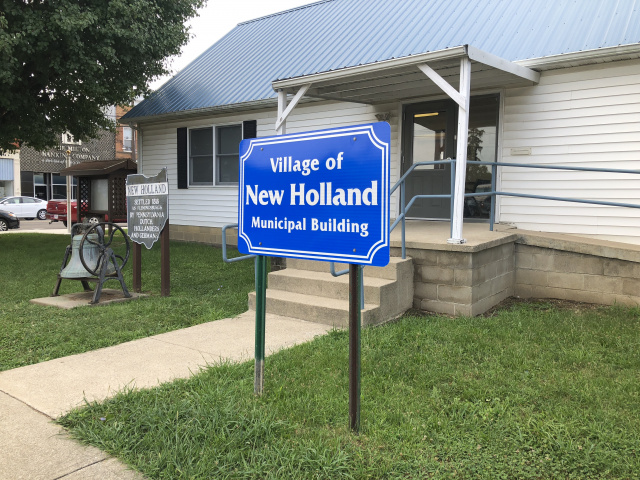 CIRCLEVILLE – Whistleblower Brad Mick, formerly a Sergeant at the New Holland Police Department filed charges against Police Chief Conrad and Mayor Betzko on Friday, July 20th regarding forgery stemming from the untimely dismissal of then-Chief Jason Lawless. The paperwork triggered a July 21th raid of the New Holland Municipal building where documents were obtained by the Pickaway County Sheriff's Office.

Charges of Forgery and Obstruction have been dismissed with prejudice against both men, New Holland Mayor Clair Betzko, and David Conrad.  Betzko was charged with 5th degree felony, Obstruction, Conrad was charged with Forgery.
Charges of Trespassing are still pending against Former Chief Lawless and Conrad at this time.
Update:  Paperwork has been forwarded to Sciotopost that this case has been settled with prejudice, we have conflicting paperwork both from Pickaway County this new paperwork dated September 4th says the charges were dismissed without prejudice.
According to legal dictionary.com, "When a lawsuit is dismissed, the court may enter a judgment against the plaintiff with or without prejudice. When a lawsuit isdismissed without prejudice, it signifies that none of the rights or privileges of the individual involved are considered to be lostor waived. The same holds true when an admission is made or when a motion is denied without prejudice.
The inclusion of the term without prejudice in a judgment of dismissal ordinarily indicates the absence of a decision on themerits and leaves the parties free to litigate the matter in a subsequent action, as though the dismissed action had not beenstarted. Therefore, a dismissal without prejudice makes it unnecessary for the court in which the subsequent action isbrought to determine whether that action is based on the same cause as the original action, or whether the identical partiesare involved in the two actions."
We will update you with the reason for the confusion when we receive it.