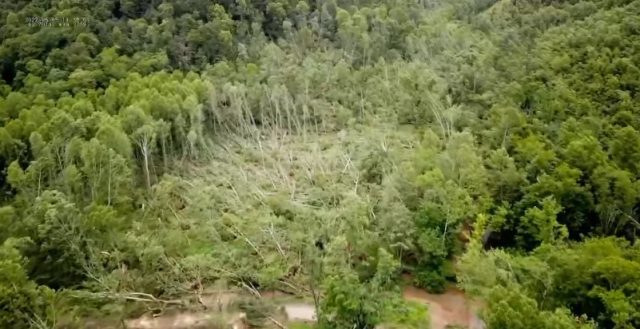 National Weather Service Classifies Hocking County Storm as an EF-2 Tornado

On Wednesday, June 8th a series of strong storms passed through the western part of Hocking County. The area hardest hit was between Laurelville and South Bloomingville. These storms produced damaging winds causing multiple road closures due to falling trees and down power lines.

On June 9th the Hocking County EMS Drone was requested to assist with damage assessment. Video from that assessment was provided to the National Weather Service to determine the strength/severity
of the storm.

On Friday June 9th, 2022 after review of radar / satellite data, aerial video footage and an on site survey of the area the National Weather Service confirmed that the storm was an EF-2 tornado.

"Although there was significant damage to the area, with all the downed trees and utilities lines, we are very fortunate that there was no loss of life and personal property damage was minimal," said Salizzoni Cleanup from the storm began immediately after the storm cleared the area and still continues. A coordinated effort with utility companies, Laurelville Volunteer Fire Department, and numerous volunteers commenced. These efforts allowed for roadways to be cleared and reopened, utilities restored and storm damage cleaned up. "It was and continues to be an extraordinary team effort," said EMA Director Bozz Salizzoni, "we are fortunate in Hocking County to have so many willing volunteers and agencies that work together to accomplish a common goal."