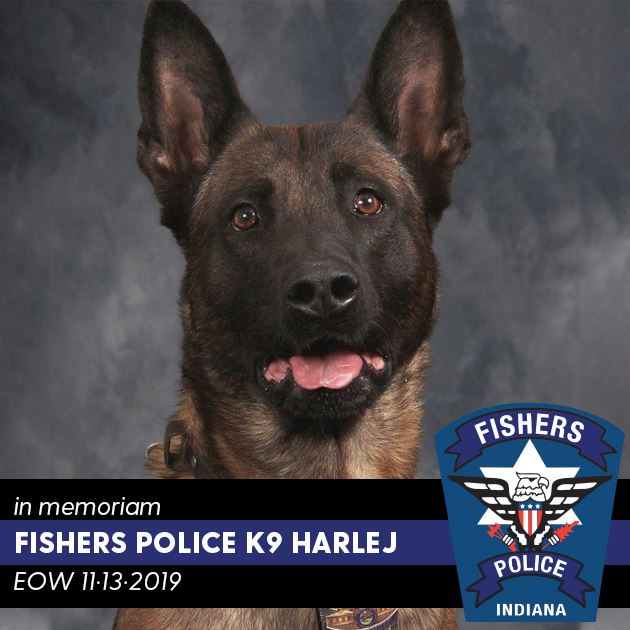 Fishers, (Indiana) – Fishers police arrest an Indianapolis man and woman following a vehicle pursuit and manhunt.
Shortly after midnight a Fishers police officer attempted to stop a Cadillac passenger car traveling northbound on Interstate 69 in Fishers. The driver refused to stop and exited the interstate onto Southeastern Parkway. A pursuit of the suspect vehicle terminated near the intersection of 131st Street and Olio Road. The male driver ran from the car while the female passenger was taken into custody. Officers established a perimeter and an extensive manhunt began.
During the search a Fishers K9 Officer observed the male suspect. When the suspect refused commands to stop, K9 Harlej was deployed. Shortly after, the officer heard a gunshot and K9 Harlej went missing. After several hours the male suspect was taken into custody. The suspect was transported to an area hospital where he received medical treatment for a minor leg injury. Both suspects were transported to the Hamilton County Jail without incident.
A short time later, officers found K9 Harlej in a wooded area. During his pursuit, of the suspect, K9 Harlej was shot and succumbed to his injury.
The Indiana State Police, the Carmel Police Department, The Noblesville Police Department, The Cicero Police Department, The Hamilton County Sheriff's Office, Hamilton County Emergency Management, and the Bureau of Alcohol, Tobacco, and Firearms assisted in the search and apprehension.
Donations can be made to the Fishers Police Foundation on line at https://www.fishers.in.us/1101/Fishers-Police-Foundation or in person at the Fishers Police Department.
Arrested (#1):          Richard D. Garrett Jr
19 years old
Indianapolis, Indiana
Charge(s):                Striking a Law Enforcement Animal Level 6 Felony
Criminal Recklessness with a Deadly Weapon Level 6 Felony
Resisting Law Enforcement with a Vehicle Level 6 Felony
Theft-Receiving Stolen Property Level 6 Felony
Residential Entry (2 counts) Level 6 Felony
Resisting Law Enforcement "A" Misdemeanor
Possession of Marijuana "B" Misdemeanor
Unauthorized Entry into a Vehicle "B" Misdemeanor
Possession of a Handgun without a License "A" Misdemeanor
Held:                          Hamilton County Jail
Arrested (#2):          Rashaana L. Farrow
19 years old
Indianapolis, Indiana
 Charge(s):                False Informing "B" Misdemeanor
Wanted on Warrants (Marion County)                 
Held:                          Hamilton County Jail