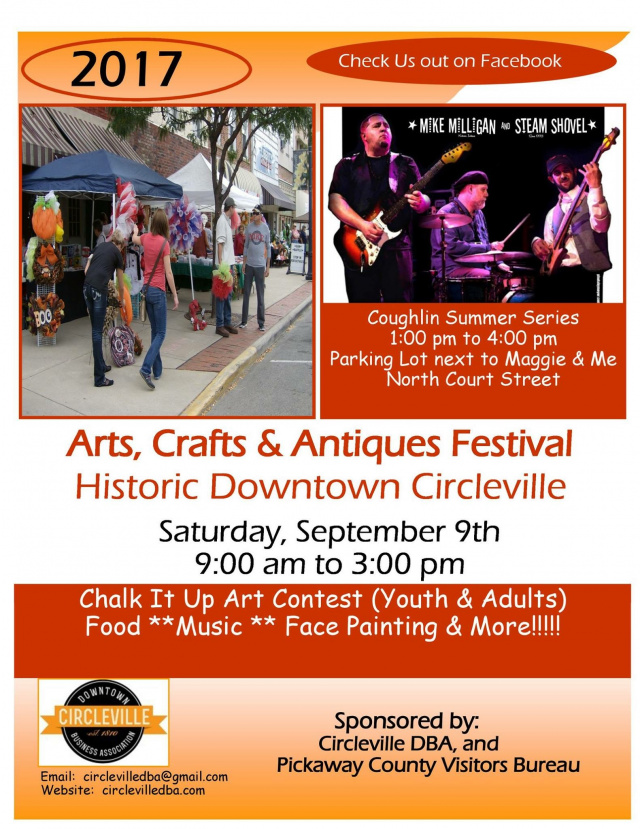 On Saturday, September 9th downtown Circleville will be bustling with activity. Not only is it the Circleville Downtown Business Association's annual Arts and Crafts fair, but also the Chalk It Up chalk art contest, and the third Coughlin Summer Series concert featuring Mike Milligan and the Steam Shovels.
- Advertisement -
The streets will be filled with crafts, local merchant displays and things you can only find at a small town sidewalk sale. In addition to the deals the local merchants will be offering, there will be food available as well.
Tucked away at the west end of Main St. there will be some great things for children to do and see such as the Chalk It Up contest and some of the participants. Each year the judges are faced with quite a challenge to pick the winners.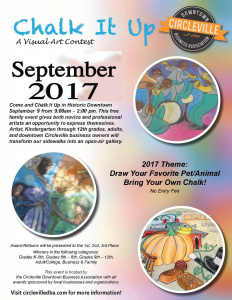 In the back of the same lot at 166 West Main, there will be a skateboarding course and demonstration going on. Full Circle Skateboards has teamed up with the world renowned Revive Skateboards to have an afternoon of skateboarding.
Andy Schrock and Brian Ambs are the owners of the Cincinnati based Revive. They have also started a new board company called 3Block Skateboards. Among the skaters coming to town on Saturday are Sam Tabor, Sam Vestal, Brian, Andy and west coast pro skater John Hill. Local hero, Gage Smith, who rides for the new board company, he said "he is happy to have the event happening in his hometown."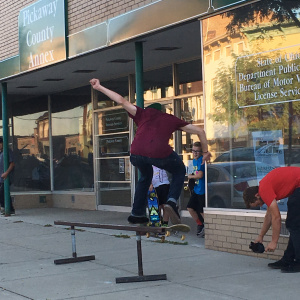 Smith was quoted Thursday saying "Revive and 3Block will make you float like fizzy lifting drinks". Always the joker, Gage makes skateboarding fun for everyone. He hopes to see a lot of new faces.
The event on Saturday promises to be an action packed and entertaining for our community.