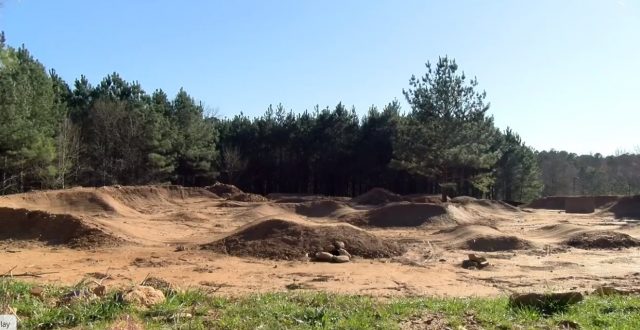 CHAUNCEY, Ohio – Mountain bikers can now hone their skills on a new pump track in Athens County, thanks to a partnership between the Ohio Department of Natural Resources (ODNR) and the village of Chauncey. The track is a part of a larger trailhead development project known as the Baileys Trail System funded through the Abandoned Mine Land Economic Revitalization Program (AMLER).

"We love being able to create recreation spaces for Ohioans that also contribute to the safety and economic vitality of this community," ODNR Director Mary Mertz said. "The dollars we are investing in these spaces benefit Ohioans by restoring the health of the former mine lands and providing economic growth opportunities across Appalachian Ohio."

A pump track is ridden without pedaling, and speed is generated by "pumping" over smooth rollers and through steep berms. Pumping is the rhythm of pulling and pushing with a user's arms and legs while riding over the berms and rollers to gain momentum and speed.

"We are so thrilled with this new recreational asset we have in Chauncey that has people being active, learning new skills, and getting outdoors which really embodies what we hoped to achieve at our park," Chauncey Mayor Amy Renner said. "The outpouring of appreciation for the addition of the pump track has been nothing short of incredible and we are thankful to the Ohio Department of Natural Resources for this opportunity."

This new community asset was developed to enhance the 88-mile Baileys Trail System user experience. While using the pump track, users must wear a helmet, ride within their ability, and use this resource responsibly.

"The pump track is already and quickly becoming a community favorite and drawing more people to the park," The Outdoor Recreation Council of Appalachia (ORCA) Sustainable Recreation Director Elle Dickerman said. "It's great to see people of all ages enjoying themselves at the trailhead, especially since the skills for riding the pump track can directly be transferred to riding the trails."

Project funding is derived from a federal Office of Surface Mining Reclamation and Enforcement Agency.