SOUTH BLOOMFIELD
A 69-year-old female, from West Columbia, West Virginia, tragically lost her life on Tuesday, just north of South Bloomfield when her vehicle lost control.
As per Sgt. Cooper with the Ohio State Patrol, at about 2:46 pm on September 12th, was traveling south on US 23, when she drove off the left side of the roadway into the median, striking a culvert and overturning, trapping her in her vehicle.
- Advertisement -
An off-duty Franklin County deputy witnessed the wreck and attempted to administer CPR and other life-saving techniques to the woman in the auto accident, but was un-successful in reviving her. Emergency services pronounced her dead at 3:00 pm. Harrison Township fire and EMS rendered aid first on the scene, with the Pickaway County Sheriff's Office also assisting with the wreck.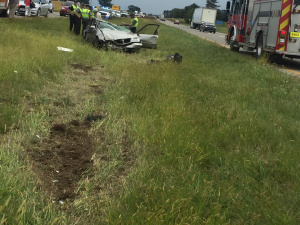 Law enforcement is in contact with its sister services in West Virginia to notify the family of the accident. As per Sgt. Cooper, the car was occupied only by the victim. According to an eyewitness, the driver of the car appeared unconscious before the wreck. Sgt. Cooper believes that drugs or alcohol were not evident in the cause of the wreck. Harrison Twp. had to use the jaws of life to release the female victim from the wreck.
- Advertisement -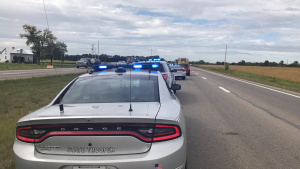 The victim is being transported to the Montogomery County coroner for autopsy to determine the cause of the victim's loss of consciousness. Currently, the investigation is focusing on the event as a medical issue. The victim's name is currently being witheld until family is contacted by law enforcement.