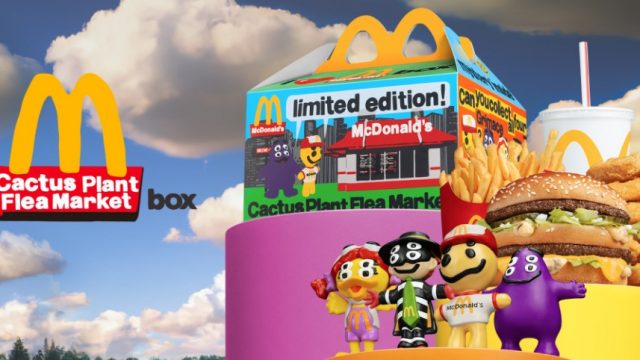 US – McDonald is rolling out the nostalgia for adults who grew up with the Happy meal, a happy meal for adults.
Starting next week the fast food chain will offer adult happy meals called The Cactus Plant Flea Market Boxes a partnership with a popular streetwear band.
Instead of small food offerings for kids, the new happy meal will feature a Big Mac® and 10-piece Chicken McNuggets® now come with a designer touch. Along with french fries, a drink, and a TOY!

Toys made for grownups will feature iconic figures of Mcdonald's Characters some of who haven't been seen in a while including  Grimace, Hamburglar, and Birdie.
Starting October 3rd and for a limited time while supplies last. They can be ordered in all the standard ways including the app and drive-thru.
There is no cost to the boxes yet but expect the 7-dollar range or above.