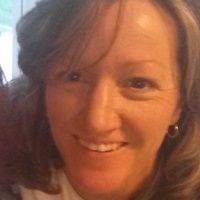 Mary Cosgrove, age 51 of Grove City, died peacefully in her sleep on July 13th at home.
She was born August 18, 1965 at Elmendorf AFB Alaska to Joseph and Dolores (Sutter) Cosgrove.
She is survived by her beloved dog Pansy; mother Dolores Cosgrove, Wapakoneta; sisters Kathy Brockman, Wapakoneta, Rose Hanf, Delphos; brothers Joe Cosgrove, Westerville, Paul Cosgrove, Marion, John Cosgrove, Wapakoneta and James Cosgrove, Wapakoneta; 12 nieces and nephews and 16 great nieces and nephews. Preceded in death by her cherished dog Whiskers; father Joseph Cosgrove and a nephew. She graduated in 1983 from Coldwater High School (class clown).
Mary was a member of the 116th graduating class of the Ohio State Highway Patrol. Mary retired in 2015 after a 31 year career with the OSHP. She blazed a new trail by becoming the first female "Trooper of the Year" in 1993.
Mary didn't know a stranger and would help anyone in need. She truly loved people and frequently enjoyed performing random acts of kindness. She will always be remembered for her kindness and generous heart.
Friends may visit on Friday, from 4:30 -7:00 PM for a memorial visitation, with a prayer service at 7:00 PM at THE SPENCE-MILLER FUNERAL HOME 2697 Columbus St. Grove City.
An additional service will be held at Clearwater Beach, FL with a scattering ceremony at a later date. Online guestbook at www.spencemillerfuneralhome.com In memory of Mary please perform a random act of kindness.
This article originally appeared on The Pickaway News Journal