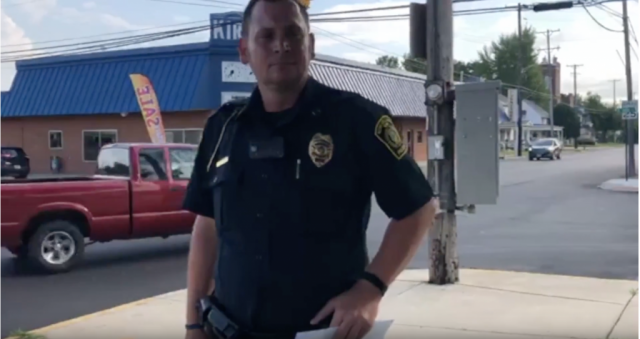 NEW HOLLAND – New Holland Police officer Sgt Brad Mick will be back in court soon against New Holland with what his Lawyer says is Contempt of Court.
Sgt. Brad Mick was terminated after filling charges against the mayor and former police chief. 
According to the Motion filed in Pickaway Court of Common Pleas Officer Mick's Lawyer Jeremiah Heck has filed a motion of contempt against the village saying that the village has failed to completely pay Mick is backpay after court ordered reinstatement to the New Holland Police Department with backpay.
The documents say that Mick was paid for two months of back pay 7/29/18 to 9/29/2018 totaling 1,291.42 dollars, and is owed much more under the ruling.
In the documents filed, the Village has cited as the reason for only two months pay Ordinace No 2018-14 that has a effective date of November 12, 2018.  The ordinance in section 3 says, "The police chief will make the decision on Officers that will be hired as part time."
Officer Mick's Lawyer Jeremiah Heck says,"this is a attempt to give the police chief unchecked power to fire a part-time officer and more attempt by the village to circumvent the requirements of R.C. 737.16. Heck says that the Revised Code gives procedures contain within it that if the Village of New Holland wishes to terminate him must follow.

Heck says the City Ordinance doesn't doesn't circumvent this code, that the village cannot just abolish Officer Mick's job when it was given to other officers.  "The Village has a long history of doing what it wants regardless of the law in the State of Ohio and defying this courts order is only staying true to form."
According to the documents Officer Mick was paid ten dollars a hour and worked 16 hour weeks the entire time he was employed with New Holland.  Furthermore the document says that since Officer Mick was suspended and not terminated he would have been given a raise to 15.00 per hour given to other part time officers. Heck says Mick is owed a total amount of 5,880.00.
"The Village of New Holland is attempting the exact same scheme to bypass Ohio Law in this case, except it comes even after this Court's Order mandating reinstatement and backpay, and evenly clearly spelling out to the village that R.C. 737.19 is the appropriate manner for such changes," sited from documents.
We will keep you updated on judgement, and court dates