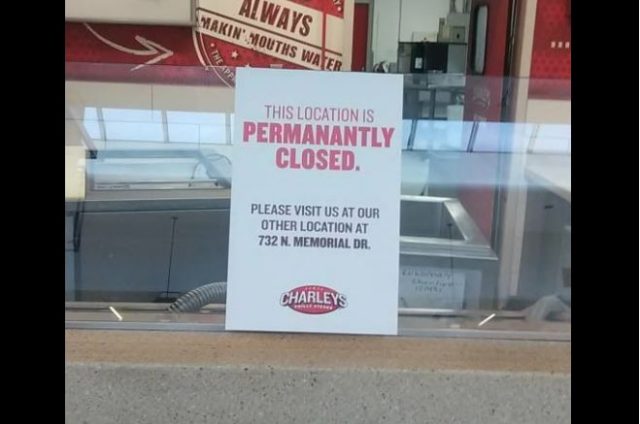 LANCASTER OHIO – In a sign of the changing landscape of retail and mall culture, Charley's Philly Subs has closed for business at the Lancaster Mall, effectively immediately. For those that frequent the River Valley Mall, it leaves just two food options remaining in a food court that previously featured at or over a dozen choices 15 years ago. Now, mall-goers are left with AsianMax and Aunt Annies Pretzels. Sbarro, another original or near-original member of anchor food vendors at the mall was shuttered in February 2014 as part of corporate downsizing at the franchise which continued the whittling of choices at the mall. The sudden closure had no public information before the signs being posted, with shoppers still frequenting the business even through the previous weekend.
However, fans of Charley's Subs still has an option in Lancaster, as a new location was opened on North Memorial Drive just last year, which may have foretold the closure of the mall location. Charley's Subs was synonymous with the River Valley Mall, as the food court location was established in 1987 as one of its first franchises. Founded in 1986 in Columbus Ohio, Charley's Philly Subs has grown to over 600 locations in America and is available in 16 countries. Founded by Korean immigrant Charley Shin at a 450 square food location across from the Ohio State University Campus, the franchise has grown to annual revenues of $500 million USD.
History of the Rivery Valley Mall (from Wikipedia)
In 1985, Fairfield County, Ohio commissioners approved a contract submitted by Glimcher Realty Trust to develop River Valley Mall along Memorial Drive, then part of US 33, west of the city of Lancaster, Ohio. Initial building costs were estimated at $4,000,000, not counting improvements to the infrastructure around the property. Construction began in June 1986, by which point Glimcher had confirmed that the mall would consist of nearly 500,000 square feet (46,000 m2) of retail space, including approximately 80 shops and restaurants and a movie theater. Two anchor stores had also committed to the project at this point: Lazarus, and J. C. Penney, which would relocate from its existing store in the Plaza Shopping Center. By August 1986, Hills had been confirmed as the mall's third anchor, and Elder-Beerman as the fourth in March 1987. Mall developers noted that the mall's tenant mix reflected the retail needs of a market the size of Lancaster, and that the decision to add a fourth department store was due to the initial success of the company's Indian Mound Mall in Heath, Ohio. Upon opening for business on October 1, 1987, the mall had more than 50 spaces leased. Over 25 stores joined the mall by 1989, including a 100,000-square-foot (9,300 m2) expansion consisting of the movie theater and a fifth anchor store, Sears, which opened that October. Sears had also relocated from the Plaza Shopping Center.
In 2014, Regal Cinemas closed the mall's movie theater, following announcements that Cinemark would demolish the former Steve & Barry's building for a new theater. At the same time, Glimcher put up both River Valley and Indian Mound malls for sale. Glimcher forfeited ownership of the mall to Woodmont Company in 2016 to avoid foreclosure, and Woodmont, in turn, sold it to RVM LLC in 2017. The mall lost two of its anchors at this time: Sears in 2017, and Elder-Beerman in 2018 when its parent company The Bon-Ton went out of business. However, the mall retains 80% occupancy as of 2019.