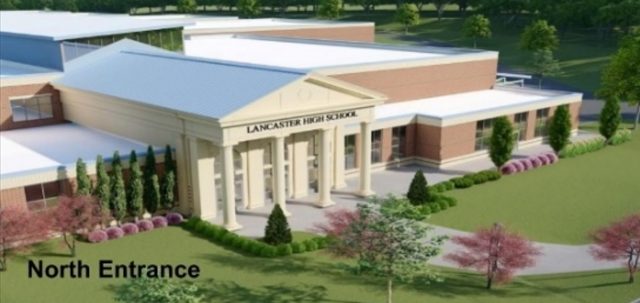 LANCASTER, OH (October 25, 2022) – Lancaster City Schools is pleased to invite the community to the groundbreaking ceremony for the new high school building on Thursday, October 27th, at 4:30 p.m. at 1312 Granville Pike. This is the final project in the district's master facilities plan, made possible because of the community's incredible support of the schools. The new high school, estimated to be 369,393 square feet, will include 4,528 square feet of mezzanines. The renderings below show what the building will look like from the exterior.
"We hope our students, staff, and community will join us on Thursday to celebrate this huge milestone for our district," said Nathan Hale, LCS Superintendent. "Soon enough, our new building will be fully operational and will continue to be the place for learning, caring, and succeeding for many generations."
The ceremony will include remarks and updates from the construction manager, a few words from elected officials and local and district employees, and a performance by the amazing Lancaster High School Band of Gold. The community is invited to participate in photo-ops with construction shovels at the end of the ceremony.