Starting Saturday, December 2nd, look for specially designated trees in downtown Circleville and at the Pickaway County District Public Library. The Knitting Tree is a community service project of the Pickaway Arts & Life Center.  For community friends in need, knitted and crocheted winter accessories are available for free.
Organized by Kristen May, Vice President of ArtsaRound and spokesperson for the Pickaway Arts & Life Center, and Sue Lumley, President of Circleville Downtown Business Association, this project connects local crafters and donors with friends who need to be protected in cold winter weather ahead.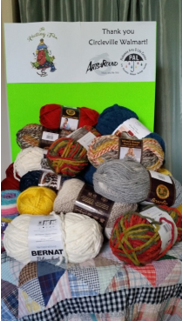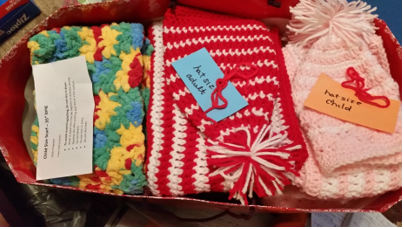 With donated materials from Circleville Walmart and Lancaster JoAnn Fabrics, local crafters crocheted and knitted hats, scarves, mittens, and head wraps.  More than 40 skeins of yarn were donated by Walmart and JoAnn, plus donations by local residents.  Crafters and donors have contributed over 225 items to date towards the project. Items will be collected through December 20th.
"Community support and the outpouring of love and care for this project has been overwhelming!" said May.
Lumley added that a local child collected hats, scarves, and mittens on his own over the summer, and then donated those very items to this project.
Residents in need are invited to choose an item from the trees located around town to be prepared for cold winter weather.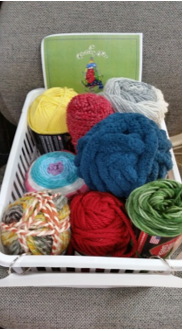 Trees are located indoors at:
Pickaway County Welcome Center, 325 West Main Street
Scioto Valley Coffee, 216 West Main Street
The Santa House, corner of South Scioto Street and West Main Street
The Vineyard Church, 152 West Main Street (during Sat., Dec. 2nd Winter Holiday Hometowne Headquarters events)
Pickaway County District Public Library, 1160 North Court Street
Three local banks are sponsoring specially lighted outdoor trees. These trees are located at:
The Savings Bank, 201 North Court Street
Chase Bank, 100 East Main Street
PNC Bank, 136 East Main Street
Items will be on trees through December 24th.  Any items remaining will be collected and distributed to Haven House, the Clothing Center, shelters, and the local schools.
The Pickaway Arts & Life Center is the proposed community venue for arts, recreation, wellness, heritage and learning – a hub of community activity and experiences. The website is http://pickawayarts.wixsite.com/info  Complete a community arts survey at https://www.surveymonkey.com/r/5DLBFVH  For more information, contact Kristen May at [email protected]. Follow the progress of the PAL Center through ArtsaRound's Facebook page https://www.facebook.com/PickawayArtsaRound/