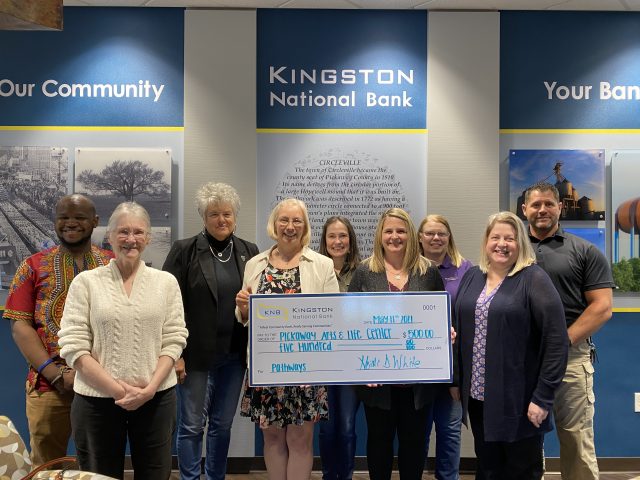 PICKAWAY – The Pickaway Arts & Life Center (PAL Center) announces a grant award from Kingston National Bank, Circleville Branch, for the Spring Session of the new Culinary Arts program at the Pathways School. Culinary Arts is the newest addition to the Pathways School's Art Enrichment program, supported and managed by the PAL Center.
Trent Patterson, director of the Pathways School, commented that "Culinary Arts is the most engaging class we've had yet!"
Sherry White, Culinary Arts instructor, brings knowledge and teaching experience in nutrition and meal planning, and she infuses the lessons with recipes of high interest to the students.
Pathways School serves students in grades 7-12 from Pickaway and Ross counties. Other Art Enrichment programs offered over the past four years include Drawing/Mixed Media Drawing, Computer Coding, Robotics, Music Exploration, 3D Design, and Performance Arts.
Kingston National Bank VP of Lending Heidi White and Branch Supervisor Susan Weinberg present the award check to PAL board members, Patterson, and Sherry White.
PAL Center is a 501(c)(3) nonprofit dedicated to arts, culture, and lifelong learning and greatly appreciates the support of the Kingston National Bank towards the Culinary Arts program.
From left to right in the photo: PAL Board Member Isaac Parker, PAL Treasurer Sue Lumley, Instructor Sherry White, PAL President Kristen May, PAL board member Caryn Koch-Esterline, Kingston Bank VP of Lending Heidi White, PAL Vice President Chris Spring, Kingston Bank Branch Supervisor Susan Weinberg, and Pathways School Director Trent Patterson