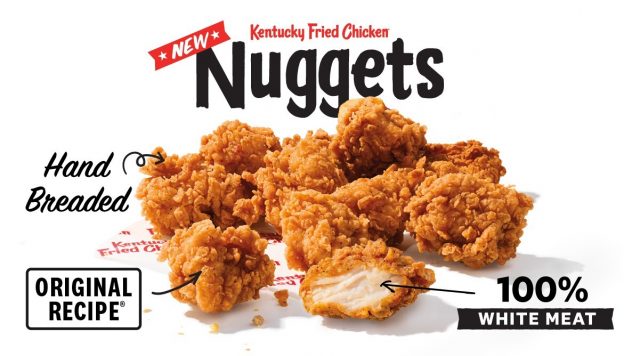 US – KFC Said, "Let the nugget wars begin! Kentucky Fried Chicken® is introducing new, 100 percent white meat Kentucky Fried Chicken Nuggets – hand-breaded with KFC's Original Recipe® – to menus nationwide starting March 27."
Just a month after stating that they would discontinue the popcorn chicken from the menu they announce the replacement as basically a bite-sized nugget of their original chicken.
"After a wildly successful test run in 2022 and years without a nugget made with the signature taste of KFC on menus, new Kentucky Fried Chicken Nuggets are making their way to KFC's permanent menu at participating locations – and these chicken nuggets pack a powerful pop of flavor that can be enjoyed nationwide seven days a week."
Made with 100 percent white meat and hand-breaded with KFC's unique Original Recipe of 11 herbs and spices that made the fried chicken chain famous, the Kentucky Fried Chicken Nuggets can be enjoyed as a full meal, a snack on-the-go, complement to the bucket meal or even as an appetizer on the way home!
Colonel Harland Sanders spent years perfecting his secret seasoning blend that creates the unmistakable, world-famous taste of KFC's Original Recipe fried chicken. And starting March 27, it's making its way to nuggets like you've never had before. With the new KFC Nuggets, KFC is inviting those who love chicken nuggets to fall in love with KFC's famous Original Recipe.
Along with the new Nuggets Mac Bowls will come back on April 3rd.