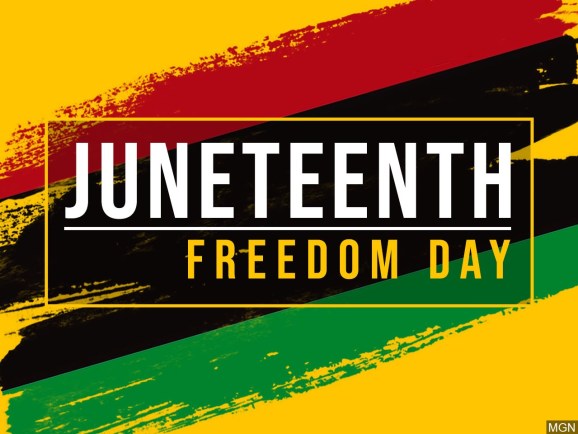 PICKAWAY – This weekend we get to celebrate this holiday along with Fathers day.
June 19th is an important time in history, when President Abraham Lincoln issued the Emancipation Proclamation on September 22, 1862, declaring the Union would be forever free as of January 1, 1863.
The Emancipation Proclamation freed 3.1 million slaves in 11 Confederate states but didn't apply to border states like Delaware, Maryland, Kentucky, and Missouri.
Juneteenth commemorates the day Union General Gordon Granader and 1,800 troops arrived in Galveston, TX to enforce the Emancipation Proclamation, effectively ending slavery in the United States 2 1/2 years after the Proclamation took effect.
The day was first recognized as a federal holiday in June 2021, but has been celebrated by people for years. Juneteenth is the first new Federal Holiday since Martin Luther King Day in 1983.
The holiday falls on the 19th, but Federally it will be recognized on Monday, June 20th with most Federal buildings being closed.
If you google Juneteenth there is a celebration today on the website.
"On June 19, 1865 — nearly nine decades after our Nation's founding, and more than 2 years after President Lincoln signed the Emancipation Proclamation — enslaved Americans in Galveston, Texas, finally received word that they were free from bondage.  As those who were formerly enslaved were recognized for the first time as citizens, Black Americans came to commemorate Juneteenth with celebrations across the country, building new lives and a new tradition that we honor today.  In its celebration of freedom, Juneteenth is a day that should be recognized by all Americans. And that is why I am proud to have consecrated Juneteenth as our newest national holiday," said President Biden on June 18, 2021 signing Juneteeth into law as a national holiday.