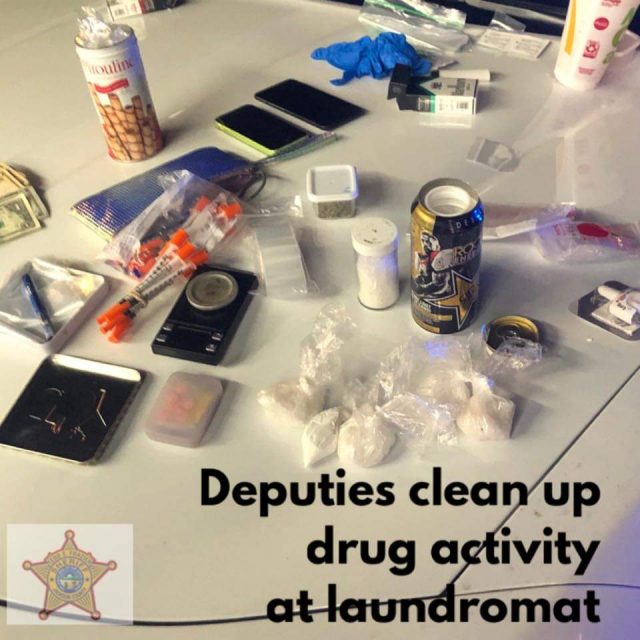 Jackson County OH- Due to complaints of illegal drug activity at a Jackson area laundromat, Jackson County Sheriff Deputies were able to confiscate illegal narcotics.
On August 6, Sheriff Tedd Frazier's Deputies investigated suspected drug trafficking going on at Mid-City Cleaners on Broadway Street, in Jackson. Deputies took Tiffany Gillum,38, of Ray and a unidentified male into custody. A 10-year-old male, identified as Gillum's son was later released into the custody of a friend.
Gillum was inside the laundromat when deputies arrived.
K-9 Hersey indicated the presence of narcotics in the vehicle, a white Dodge Charger. A red backpack, located on the hood of the vehicle, contained approximately seven and a half ounces of what deputies believe is Methamphetamine and half an ounce of Fentanyl, as well as several small baggies of narcotics were located, which indicates it was packaged to sell in the backpack.
During the search of the vehicle, items related to the trafficking of narcotics were discovered, including digital scales and button baggies. Gillum was transported to the Jackson County Sheriff's Office.
The vehicle was impounded.
During questioning, Gillium advised that she had purchased a pound of narcotics, mostly methamphetamine, from a man in Columbus and that all the drugs located were hers. She stated to investigators that she was selling the drugs to get enough money to purchase a residence.
Gillum is currently being held on a bond violation.
The case will be submitted to the Jackson County Prosecutor Justin Lovett's office for review and the possible filing of felony charges for the trafficking of drugs.