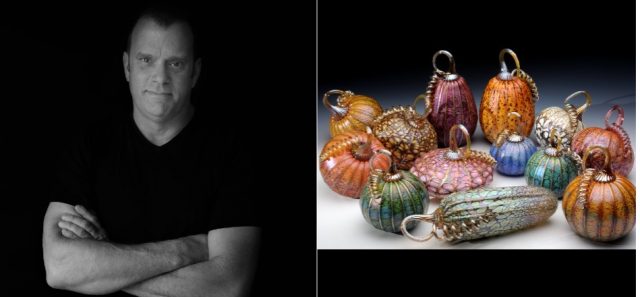 CIRCLEVILLE, OHIO- Local favorite and renowned glass artist Jack Pine will be exhibiting select works at the ArtsaRound Gallery on the Original Circle in July.

This show spotlights pumpkins with exceptional color combinations as well as three unique pieces for the home from Jack Pine Studios. This limited show will run weekends from July 8 through July 31 at 135 W. Main Street in the heart of historic downtown Circleville.

Items on display at this special show will be sold on first-come-first-served basis. Sold items will be held on display until the end of the show and buyers will be able to pick up their purchases after July 31. A portion of the sales will benefit ArtsaRound, a non-profit formed in 2001 promoting the arts and artists in Pickaway County and the surrounding area.

Jack Pine is inherently drawn to nature and has always been inspired by organic form. His body of work is motivated by his surroundings to influence the use of highly saturated colors and precious metals incorporated with molten glass. Using intense and primitive methods, he creates one-of-a-kind glass pieces that are mesmerizing to see during the dance of glass blowing.

ArtsaRound President Dale Herron says, "It is an honor to have an artist of Jack Pine's caliber and prominence exhibit at the ArtsaRound Gallery for the third time in our three years of operation."

Jack Pine Studio will be hosting its third Glass Pumpkin Festival at the studio near Laurelville Sept. 23, 24 and 25.
JackPineStudio.com

The ArtsaRound Gallery on the Original Circle is housed in the former Marfield Bank Building owned by the Pickaway County Historical Society. This rare pie-shaped property was part of the original circle of the Circleville. The gallery is operated by local volunteers Fridays from 5 p.m. to 8 p.m., Saturdays 11 a.m. to 5 p.m., and Sundays 1 p.m. to 4 p.m. Hours may vary based on volunteer availability, gallery events and other advertised downtown events. Look for more gallery information on Facebook or email [email protected]