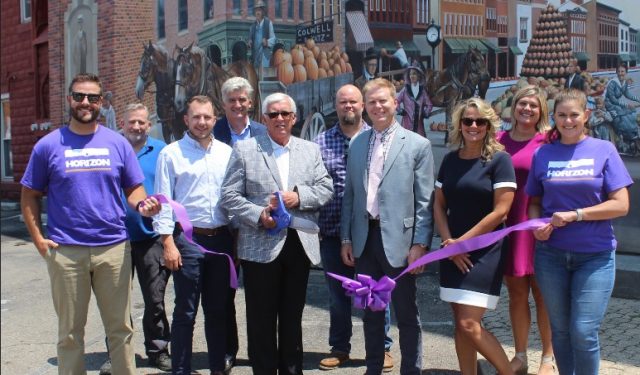 CHILLICOTHE, OH – June 10, 2021 – Horizon, an Ohio-based regional fiber broadband company, began expanding its regional fiber optic network with constructing a state-of-the-art fiber optic network to the residents and businesses in Circleville Ohio. 
Horizon has been building support and building communities and networks for over 125 years, helping people do what they do, better. Horizon recently kicked off the first of many projects in the region,constructing an all-fiber optic network in Circleville Ohio. Soon the homes and businesses in Circleville will have access to Horizon'sgigabit fiber service, the fastest speeds in broadband internet. This expansion of Horizon's fiber network, is a cutting-edge system designed to meet the ever-increasing internet demands of today and into the future.
"We are very excited to bring the first symmetrical GIGABIT+ internet network to the residents and businesses of Circleville." Said Jim Capuano, Chief Executive Officer at Horizon. "Horizon believes this Fiber-To-The-Home/Business network is designed to surpass all customer expectations for quality, reliability, and speed. This project, in addition to our builds in Chillicothe, is the first project of many we have planned in the region. The support of the residents, who have clearly shared their appreciation for the importance of high-quality internet service, and Mayor Don McIlroy and the local government of Circleville, who understands the economic impact this network will have on their community, makes Circleville an obvious place to kick off our initiative. This has been a true Resident – Public – Private partnership from the beginning."
Horizon has a long standing Horizon has been in the fiber business for years, servicing Fiber has been a large part of Horizon's infrastructure for years. This expansion will bring customers direct access to that fiber and all of its advantages. Not only will the internet be faster, it will be highly reliable, provide lower latency, and morescalable than the existing copper network.  
City and county officials agree that access to high-speed fiber internet is crucial to residents and businesses in the area. Circleville Mayor Don McIlroy commented "As you have noticed Horizon has been installing fiber throughout the City of Circleville. This fiber infrastructure is critical to facilitate the delivery of fast broadband to our citizens, businesses and to our visitors. This super-fast broadband has the ability to provide internet service to our citizen at a very high speed, everyone will benefit through choice and faster access to services.
"Broadband access and quality of service has never been more important to our residents and businesses than it is right now," says Ryan Scribner, Executive Director of Pickaway Progress Partnership. "I'm thankful for the investment Horizon is making in the City of Circleville and am sure it will pay dividends in our efforts to promote positive development in the community."